paradox

par·a·dox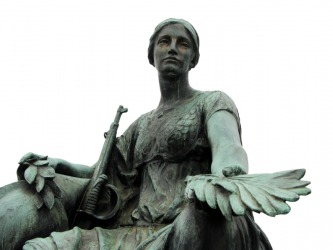 Going to war to bring about peace is a paradox.
noun
The definition of a paradox is something that seems contradictory or unbelievable, but may or may not be true.

An example of paradox is going to war to bring about peace.
An example of paradox is loving someone so much, you push them away.
---
paradox
Archaic

a statement contrary to common belief
a statement that seems contradictory, unbelievable, or absurd but that may be true in fact (Ex.: "Water, water, everywhere, nor any drop to drink")
a statement that is self-contradictory and, hence, false
a person, situation, act, etc. that seems to have contradictory or inconsistent qualities
Origin of paradox
Classical Latin
paradoxum
from Classical Greek
paradoxon,
neuter of
paradoxos,
paradoxical from
para-
(see para-) +
doxa,
opinion from
dokein,
to think: see decent
---
paradox
noun
A statement that seems to contradict itself but may nonetheless be true: the paradox that standing is more tiring than walking.
A person, thing, or situation that exhibits inexplicable or contradictory aspects: "The silence of midnight, to speak truly, though apparently a paradox, rung in my ears" ( Mary Shelley )
A statement that is self-contradictory or logically untenable, though based on a valid deduction from acceptable premises.
Origin of paradox
Latin
paradoxum
from
Greek
paradoxon
from neuter sing. of
paradoxos
conflicting with expectation
para-
beyond
; see
para-
1
.
doxa
opinion
(
from
dokein
to think
; see
dek-
in Indo-European roots.)
Related Forms:
par′a·dox′i·cal

adjective
par′a·dox′i·cal·ly

adverb
par′a·dox′i·cal·ness

noun
---
paradox

Noun
(plural paradoxes)
A self-contradictory statement, which can only be true if it is false, and vice versa. transl. usage

"This sentence is false" is a paradox.

A counterintuitive conclusion or outcome. usage syn.

It is an interesting paradox that drinking a lot of water can often make you feel thirsty.

A claim that two apparently contradictory ideas are true. transl.

Not having a fashion is a fashion; that's a paradox.

A person or thing having contradictory properties. syn. transl.

He is a paradox; you would not expect him in that political party.

An unanswerable question or difficult puzzle, particularly one which leads to a deeper truth. usage syn.
1615, Ralph Hamor, A True Discourse of the Present State of Virginia, Richmond 1957, p. 3

they contended to make that Maxim, that there is no faith to be held with Infidels, a meere and absurd Paradox [...].

(uncountable) The use of counterintuitive or contradictory statements (paradoxes) in speech or writing.
(uncountable, philosophy) A state in which one is logically compelled to contradict oneself.
(uncountable, psychotherapy) The practice of giving instructions that are opposed to the therapist's actual intent, with the intention that the client will disobey or be unable to obey. syn.
Usage notes
(self-contradictory statement def. transl.): A statement which contradicts itself in this fashion is a paradox; two statements which contradict each other are an antinomy.
(counterintuitive outcome def. syn.): This use may be considered incorrect or inexact.

1995 January 14, Ian Stewart, "Paradox of the Spheres":

Banach and Tarski's theorem (commonly known as the Banach-Tarski paradox, though it is not a true paradox, being counterintuitive rather than self-contradictory) [...]

1998, Encyclopedia of Applied Physics, page 270:

It is not a true paradox, merely highly nonintuitive behavior, if one accepts the realistic and local assumptions of EPR.

(unanswerable question def. syn.): This use may be considered incorrect or inexact.

1917, George Crabb, "ENIGMA, PARADOX, RIDDLE", in Crabb's English Synonymes, edition Centennial ed.:

An enigma, therefore, is not a paradox, but a paradox, not being intelligible, may seem like an enigma.
Origin
From Middle French paradoxe <Latin paradoxum, from Ancient Greek παράδοξος (paradoxos, "unexpected, strange").
---
paradox - Computer Definition
A relational database management (DBMS) and application development system for Windows from Corel. It includes the PAL programming language for writing complex business applications. When Paradox was originally released under DOS, it was noted for its visual query by example method, which made asking questions much easier than comparable products of the time. Originally developed by Ansa Software, it was later acquired by Borland and then Corel. The product was named Corel Paradox for a while, then offered as part of Corel's WordPerfect Office suites.
---