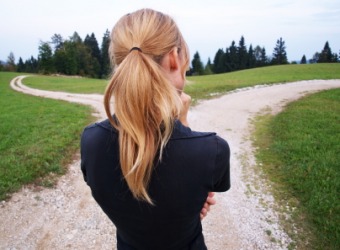 This woman is in a quandary as to which way to go.
noun
The definition of a quandary is a dilemma or a state of uncertainty.

An example of quandary is being presented with two great opportunities and not knowing which to take.
---
quandary
noun
pl.
-·ries
a state of uncertainty; perplexing situation or position; dilemma
Origin of quandary
earlier
quandare,
probably origin, originally jocular pseudo-L from Classical Latin
quande,
variant, variety of
quam,
how much (see quantity) +
-are,
infinitive suffix
---
quandary
noun
pl.
quan·da·ries
A state of uncertainty or perplexity. See Synonyms at
predicament
.
Origin of quandary
Origin unknown
---
quandary

Origin
16th century. Origin unknown; perhaps a dialectal corruption (simulating a word of Latin origin with suffix -ary) of wandreth ("evil, plight, peril, adversity, difficulty"), from Middle English wandreth, from Old Norse vandræði ("difficulty, trouble"), from vandr ("difficult, requiring pains and care").
---