primary

pri·mar·y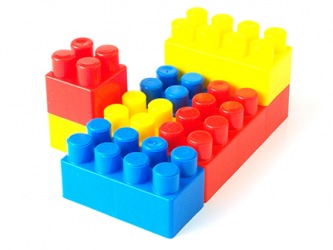 Primary colored blocks are red, blue and yellow.
adjective
The definition of primary is something that is the most important, among the most important, something that comes early in development or that is original and not derived from something else.

An example of primary is the main reason why you choose to have a baby.
An example of primary is the first stage in a child's development.
An example of primary is a color, such as blue, that cannot be made by mixing other colors.
An example of primary is an original research study on a subject, rather than a summary of that study.
noun
Primary is defined as a special election that is used to choose candidates from among a political party for a more major election.

An example of a primary is when the Republicans hold an election to choose which member of their party will run for president.
---
primary
first in time or order of development; primitive; original; earliest
from which others are derived; fundamental; elemental; basic
designating colors regarded as basic, or as those from which all others may be derived: classification of colors as primary varies
of or in the first stage of a sequence; elementary: primary school
first in importance; chief; principal; main: a primary concern
firsthand; direct: a primary source of information

Chem.

characterized by or resulting from the replacement of one atom or radical
characterized by groups or radicals that are attached to the end carbon atom of a chain, i.e., to a CH group (Ex.: primary alcohols, CHOH; primary amines, CHNH)

Elec.

designating or of an inducing current, input circuit, or input coil in a transformer, induction coil, etc.

Geol.

formed directly by sedimentation, solidification, or precipitation and not subsequently altered: said of rocks

Obs.

designating or of the earliest geological periods, up through the Paleozoic Era

Linguis.

having as its fundamental form a base or other element that cannot be broken down: said of derivation

Med.

designating or having to do with the initial medical care given to a patient, before referral to another doctor, a specialist, etc.

Ornithology

designating or of the large, stiff feathers on the last section, or hand, of a bird's wing
Origin of primary
Middle English
prymary
from Classical Latin
primarius
from
primus
, first: see prime
noun
pl.
-·ries
something first in order, quality, importance, etc.
in the U.S.,

a local meeting of voters of a given political party to nominate candidates for public office, select delegates to a convention, etc.
direct primary election

any of the primary colors

Astron.

a sun, planet, etc. in relation to its satellites
the brighter member of a binary star

Elec.

a primary coil

Ornithology

a primary feather
---
primary
adjective
First or highest in rank or importance; principal. See Synonyms at chief.

a. Occurring first in time or sequence; earliest: the primary stages of the project.

b. Of or relating to primary schools.

a. Not derived from anything else; basic or original: The interviews and other primary materials in the study are more interesting than the analysis.

b. Immediate; direct: a primary source of information.

Geology Characteristic of or existing in a rock at the time of its formation.
Of or relating to a primary color or colors.
Linguistics

a. Having a word root or other linguistic element as a basis that cannot be further analyzed or broken down. Used of the derivation of a word or word element.

b. Referring to present or future time. Used as a collective designation for various present and future verb tenses in Latin, Greek, and Sanskrit.

c. Of or relating to primary stress.

Electronics Of, relating to, or constituting an inducting current, circuit, or coil.
Of, relating to, or designating the main flight feathers projecting along the outer edge of a bird's wing.
Of or relating to agriculture, forestry, the industries that extract natural materials from the earth, or the products so obtained: a primary commodity.
Chemistry

a. Relating to, or having a carbon atom that is attached to only one other carbon atom in a molecule.

b. Relating to the replacement of only one of several atoms or groups in a compound, such as an amine in which one valence of the functional group is taken by a carbon atom.

Botany Of, relating to, or derived from a primary meristem.
noun
pl.
pri·mar·ies
a. One that is first in time, order, or sequence.

b. One that is first or best in degree, quality, or importance.

c. One that is fundamental, basic, or elemental.

a. A meeting of the registered voters of a political party for the purpose of nominating candidates and for choosing delegates to their party convention.

b. A preliminary election in which the registered voters of a political party nominate candidates for office.

A primary color.
A primary flight feather.
Electronics An inducting current, circuit, or coil.
Astronomy

a. A celestial body, especially a star, relative to other bodies in orbit around it.

b. The brighter of two stars that make up a binary star.
Origin of primary
Middle English
from
Latin
prīmārius
chief
from
prīmus
first
; see
per
1
in Indo-European roots.
---
primary

Adjective
(comparative more primary, superlative most primary)
The first in a group or series.

Children attend primary school, and teenagers attend secondary school.

Main; principal; placed ahead of others.

Preferred stock has primary claim on dividends, ahead of common stock.

(geology) Earliest formed; fundamental.
(chemistry) Illustrating, possessing, or characterized by, some quality or property in the first degree; having undergone the first stage of substitution or replacement.
Noun
(plural primaries)
A primary election; a preliminary election to select a political candidate of a political party.
The first year of grade school.
A base or fundamental component; something that is irreducible.
The most massive component of a gravitationally bound system.
A primary school.
(ornithology) Any flight feather attached to the manus (hand) of a bird.
A primary colour.
(electronics) A directly driven inductive coil, as in a transformer or induction motor that is magnetically coupled to a secondary
Verb
(third-person singular simple present primaries, present participle primarying, simple past and past participle primaried)
(US, intransitive) To take part in a primary election.
(US, politics) To challenge an incumbent sitting politician for their political party's endorsement to run for re-election, through running a challenger campaign in a primary election
---