principal

prin·ci·pal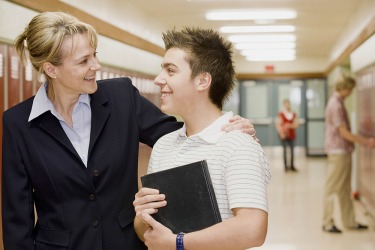 A school principal talking to a student.
adjective
The definition of principal is the first or highest in importance.

An example of a principal ingredient is flour in bread.
noun
Principal is someone or something that holds the highest rank, or is a sum of money.

An example of principal is the person in charge at a school or the head of a research project.
An example of principal is the amount of money loaned to a business.
---
principal
highest or among the highest in rank, authority, importance, degree, etc.
that is or has to do with principal (noun)
Origin of principal
Old French from Classical Latin
principalis
from
princeps:
see prince
a principal person or thing; specif.,

a chief; head
a governing or presiding officer, specif. of a school
a main actor or performer
either of the combatants in a duel

any of the main end rafters of a roof, supporting the purlins
a roof truss

Finance

the amount of a debt, investment, etc. minus the interest, or on which interest is computed
the face value of a stock or bond
the main body of an estate, etc., as distinguished from income

Law

a person who employs another to act as his agent
the person primarily responsible for an obligation
a person who commits a crime or is present as an abettor to it

Music

any of the principal open stops of an organ
the soloist in a concert
the first player of any section of orchestral instruments except the first violins
the subject of a fugue
---
principal
adjective
First or highest in rank or importance. See Synonyms at chief.
Of, relating to, or being financial principal, or a principal in a financial transaction.
noun
a. One who holds a position of presiding rank, especially the head of an elementary school, middle school, or high school.

b. A main participant in a situation, especially a financial transaction.

c. A person having a leading or starring role in a performance, such as the first player in a section of an orchestra.

a. An amount of capital originally borrowed or invested, as opposed to the interest paid or accruing on it.

b. The most significant part of an estate, as opposed to minor or incidental components.

Law

a. The person on behalf of whom an agent acts.

b. The person having prime responsibility for an obligation as distinguished from one who acts as surety or as an endorser.

c. The main actor in the perpetration of a crime.

Architecture Either of a pair of inclined timbers forming the sides of a triangular truss for a pitched roof.
Origin of principal
Middle English
from
Old French
from
Latin
prīncipālis
from
prīnceps
prīncip-
leader, emperor
; see
per
1
in Indo-European roots.
Related Forms:
Usage Note: Principal and principle are often confused but have no meanings in common. Principle is only a noun and usually refers to a rule or standard. Principal is both a noun and an adjective. As a noun, it has specialized meanings in law and finance, but in general usage it refers to a person who holds a high position or plays an important role: a meeting among all the principals in the transaction. As an adjective it has the sense of "chief" or "leading": The coach's principal concern is the quarterback's health.
---
principal

---
principal - Investment & Finance Definition
The amount of money that is borrowed, excluding the interest charge, that remains unpaid. Principal also may be part of a monthly payment that reduces the outstanding balance of a loan. For instance, mortgage payments consist of principal and interest payments.
The person or company who is the main party to a transaction.
The role that a broker or dealer plays when selling or buying securities for his or her own account.
A company executive, typically one with an ownership interest in the company.
---
principal - Legal Definition
adj
Of greatest importance.
n
One who authorizes another to act in his or her behalf as an agent; any person involved in the commission of a criminal act.
disclosed
A principal whose identity is shared by his or her agent with the third party.
principal in the first degree
The actual perpetrator of a crime.
principal in the second degree
Someone who assists in some way the principal in the first degree.
undisclosed
A principal whose identity is kept secret by his agent. Both the undisclosed principal and the authorized agent are liable for fulfilling the provisions of a contract.
---