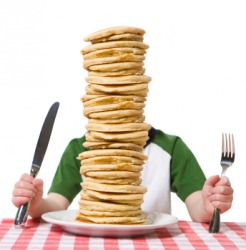 An extra large stack of pancakes.
adjective
The definition of extra is more, larger, bigger than expected or at an additional cost.

An example of extra used as an adjective is in the sentence, "This coffee is extra hot," which means the coffee is hotter than was expected.
adverb
Extra is defined as more than usual.

An example of extra used as an adverb is in the phrase "extra happy," which means happier than usual.
noun
Extra means an additional person or thing.

An example of an extra is a person playing a minor role as a crowd member in a movie.
An example of an extra is a special edition of a newspaper.
---
extra
more, larger, or better than is expected, usual, or necessary; additional or superior
requiring payment of an added charge
Origin of extra
contr. from extraordinary; also from Classical Latin
extra
, additional, extra from
extra
, adv., more than, outside: see extra-
an extra person or thing; specif.,
an additional charge: often used in pl.
a special edition of a newspaper as formerly put out between regular editions to cover news of unusual importance
an additional benefit or feature
a spare or leftover copy of something
an extra worker

Cricket

a run not made from a hit, as a bye

Film

an actor hired by the day to play a minor part, as a member of a crowd scene, etc.
more than usually; esp., exceptionally: extra good quality
extra-
outside, outside the scope or region of, beyond, besides: added to adjectives
Origin of extra-
Classical Latin from
exter, exterus
: see external
---
extra
adjective
More than or beyond what is usual, normal, expected, or necessary: earned extra money by freelancing. See Synonyms at superfluous.
Subject to an additional charge: Coffee does not come with dinner but is extra.
noun
Something more than is usual or necessary: bought too much paint and gave the extra to a friend.
Something, such as an accessory on a motor vehicle, for which an additional charge is made.
A special edition of a newspaper.
A performer hired to play a minor part, as in a crowd scene in a film.
adverb
To an exceptional extent or degree; unusually: extra dry.
Origin of extra
Probably short for
extraordinary
extra-
or extro-
prefix
Outside; beyond: extraterritorial.
Origin of extra-
Latin
extrā-
from
extrā
; see
eghs
in Indo-European roots.
---
extra

Adverb
(not comparable)
(informal) To an extraordinary degree.

That day he ran to school extra fast.
Noun
(plural extras)
(cricket) A run scored without the ball having hit the striker's bat - a wide, bye, leg bye or no ball; in Australia referred to as a sundry.
An extra edition of a newspaper, which is printed outside of the normal printing cycle.

extra, extra, read all about it!

A supernumerary or walk-on in a film or play.
---
extra! - Computer Definition
Terminal emulation software for Windows and Mac from Attachmate Corporation. It was used with 3270 and 5250 emulators to gain access to a mainframe or mini from a desktop computer. EXTRA! also provided connectivity to Unix and VMS hosts. See terminal emulation.
---