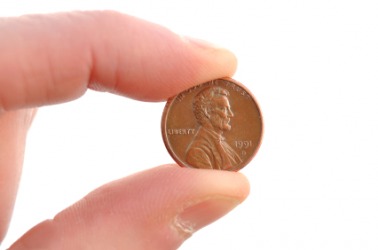 The penny has the least value of United States currency.
adjective
The definition of least is the lowest in importance or the smallest of something.

An example of least is one penny being the lowest value U.S. coin; the least amount of value.
An example of least is someone doing the smallest amount of work necessary; the least necessary.
---
least
alt. superl. of little
smallest or slightest in size, degree, importance, etc.: the least movement

Biol.

very small: used in names of species or varieties: least flycatcher
Origin of least
Middle English
lest
from Old English
læsest, læst
, superlative of
læssa
, less
superl. of little
in the smallest degree
the smallest in size, amount, importance, etc.
at least
at the very lowest figure or amount; with no less
at any rate; in any event; anyhow
---
least
adjective
A superlative of
little
Lowest in importance or rank.

a. Smallest in magnitude or degree.

b. Slightest or tiniest: didn't care the least bit.
adverb
Superlative of
little
To or in the lowest or smallest degree.
noun
One that is the lowest or smallest in importance, rank, magnitude, or degree: The dinner menu is the least of my worries tonight. The least you can do is to be polite.
Origin of least
Middle English
from
Old English
lǣst
; see
leis-
2
in Indo-European roots.
---
least

Determiner
(comparative less)
Usage notes
Some grammarians recommend to use least only with uncountable nouns, as in the examples above with the smallest amount of sense:
1965, H. W. Fowler, Fowler's Modern English Usage: Second Edition:

[W]hen the context""unemotional statement of everyday facts""is taken into account, at a less price ought to be at a lower price, and a lesser prize ought to be a smaller prize.
To such grammarians least is the superlative of a little, not that of little, so it does not mean smallest, but the smallest amount of. With plural nouns, they recommend fewest.
Adverb
(negative superlative)
Used for forming superlatives of adjectives, especially those that do not form the superlative by adding -est.

It was the least surprising thing.

In the smallest or lowest degree; in a degree below all others.

to reward those who least deserve it
---