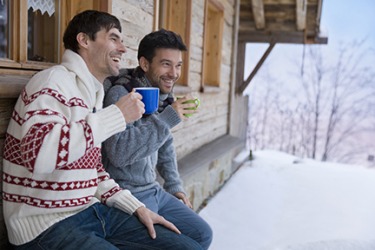 Two men wearing warm sweaters in the cold weather.
adverb
Primarily is defined as mainly or originally.

Sweaters usually being worn when it's cold is an example of when sweaters are primarily worn.
---
primarily
at first; originally
mainly; principally
---
primarily
adverb
Chiefly; mainly: a scholastic program primarily for seniors; a primarily middle-class neighborhood.
At first; originally.
---
primarily
Adverb
(not comparable)
(focus) Of a primary or central nature, first and foremost
---