noun
The definition of an enthusiast is a person who is very excited about some person or thing.

A person who is really into wine and who really loves talking about wine is an example of a wine enthusiast.
YourDictionary definition and usage example. Copyright © 2013 by LoveToKnow Corp.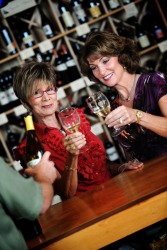 A group of sports enthusiasts.
Licensed from iStockPhoto
---
noun
a person full of enthusiasm; specif.,
Archaic

a religious fanatic or zealot
an ardent supporter
Origin: Classical Greek enthousiastēs
Webster's New World College Dictionary
Copyright © 2010 by Wiley Publishing, Inc., Cleveland, Ohio.
Used by arrangement with John Wiley & Sons, Inc.
---
noun
One who is filled with enthusiasm; one who is ardently absorbed in an interest or pursuit: a baseball enthusiast.
A zealot; a fanatic.
Origin: Greek enthousiastēs, possessed person, from enthousiazein, to be inspired; see enthusiasm.
The American Heritage® Dictionary of the English Language
, 4th edition Copyright © 2010 by Houghton Mifflin Harcourt Publishing Company. Published by Houghton Mifflin Harcourt Publishing Company. All rights reserved.
---
enthusiast - Computer Definition
With regard to technology, an enthusiast is a person who enjoys using computers and electronic equipment. Enthusiasts are willing to learn more of the ins and outs of a product than the average consumer, who just wants to use it. An enthusiast is more like a "prosumer." See high-tech people, consumer and prosumer.
Computer Desktop Encyclopedia
THIS DEFINITION IS FOR PERSONAL USE ONLY
All other reproduction is strictly prohibited without permission from the publisher.
© 1981-2014 The Computer Language Company Inc. All rights reserved.