champion

cham·pi·on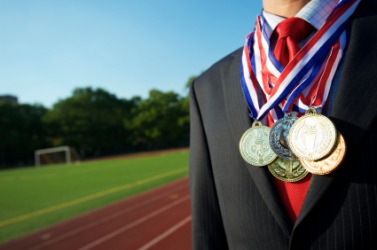 This man is a champion.
noun
The definition of a champion is a person who is the best in his field or who has defeated all rivals.

An example of a champion is an Olympic gold medal winner.
verb
To champion is defined as to speak up in favor of or in support of a cause.

An example of champion is an active supporter of women's rights.
---
champion
a valiant fighter
a person who fights for another or for a cause; defender; protector; supporter: a champion of the oppressed
a winner of first place or first prize in a competition
Origin of champion
Old French (? via Germanic an unverified form
kampjo
) from Late Latin
campio
, gladiator from Classical Latin
campus
, field: see campus
winning or capable of winning first place; excelling over all others
to fight for; defend; support

Obs.

to challenge to a fight
---
champion
noun
One that wins first place or first prize in a competition.
One that is clearly superior or has the attributes of a winner: a champion at teaching.
An ardent defender or supporter of a cause or another person: a champion of the homeless.
One who fights; a warrior.
transitive verb
cham·pi·oned, cham·pi·on·ing, cham·pi·ons
To fight for, defend, or support as a champion: championed the cause of civil rights. See Synonyms at support.
Obsolete To defy or challenge.
adjective
Holding first place or prize: a champion show dog.
Superior to all others: "the champion playboy of the Western World" ( John Millington Synge )
Origin of champion
Middle English
champioun
combatant, athlete
from
Old French
champion
from
Medieval Latin
campiō, campiōn-
from
Germanic
kampjō
fighter, warrior
from
kampjan
to do battle, fight
from
kampaz
field of battle, battle
from
Latin
campus
field
; see
campus
.
---
champion

Noun
(plural champions)
Someone who has been a winner in a contest.

The defending champion is expected to defeat his challenger.

Someone who is chosen to represent a group of people in a contest.
Someone who fights for a cause or status.

champion of women's suffrage

Someone who fights on another's behalf.

champion of the poor
Adjective
Acting as a champion; that has defeated all one's competitors.
Excellent; beyond compare.
(predicative) (Ireland, colloquial) Excellent; superb; deserving of high praise.

"That roller coaster was champion," laughed Vinny.
Verb
(third-person singular simple present champions, present participle championing, simple past and past participle championed)
(usually of a cause) to promote, advocate, or act as a champion for
---