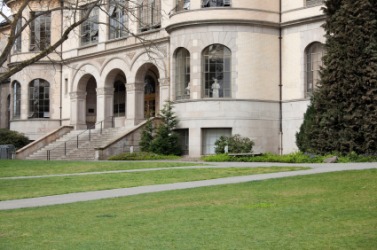 Part of the campus of the University of Washington.
adjective
The definition of campus is something that relates to school or college.

An example of campus is a school dance.
noun
Campus is defined as the grounds and buildings of a school, college, hospital or place of business.

An example of a campus is the area around and buildings at Harvard University.
An example of a campus is Googleplex, which is the buildings of Google.
---
campus
noun
pl.
-·puses
the grounds, sometimes including the buildings, of a school or college
the grounds, sometimes including the buildings, of a commercial or industrial firm, a hospital, etc.
Origin of campus
L, a field from Indo-European an unverified form
kampos
, a corner, cove from base an unverified form
kamp-
, to bend from source Classical Greek
kamp?
, bend, curve, Lithuanian
ka?pas
, corner, area
on or of the campus
of a school or college: campus politics
transitive verb
-·pused

,

-·pus·ing
to restrict (a student) to campus or dormitory, usually because of an infraction of the rules
---
campus
noun
pl.
cam·pus·es
The grounds and buildings of an institution, especially a college or other institution of learning, a hospital, or a corporation.
Origin of campus
Latin
field
perhaps of
pre-Latin Indo-European substrate origin
and akin to
Sicel
kampos
hippodrome
perhaps further akin to
Greek
kampein
to bend
---
campus

Usage notes
The Latinate plural form campi is sometimes used, particularly with respect to colleges or universities; however, it is sometimes frowned upon. By contrast, the common plural form campuses is universally accepted.
Verb
(third-person singular simple present campuses, present participle campusing, simple past and past participle campused)
To confine to campus as a punishment.
Origin
From Latin campus ("field").
First used in its current sense in reference to Princeton University in the 1770s.
---
campus - Computer Definition
Two or more buildings located in close proximity. For example, a campus backbone implies a high-speed network running between all the buildings. The term used to refer only to an educational environment, but businesses adopted it a while ago to make their workplace sound friendlier.
---