university

u·ni·ver·si·ty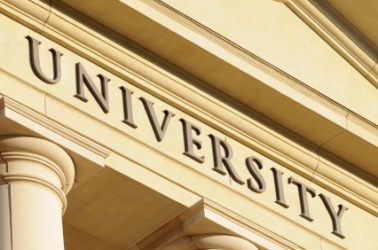 A university building.
noun
The definition of a university is a high-level school offering classes that can lead to a bachelor's degree, or to master's and doctoral degrees at the graduate level.

An example of a university is the University of California at Berkeley.
---
university
noun
pl.
-·ties
an educational institution of the highest level, typically, in the U.S., with one or more undergraduate colleges, together with a program of graduate studies and a number of professional schools, and authorized to confer various degrees, as the bachelor's, master's, and doctor's
the grounds, buildings, etc. of a university
the students, faculty, and administrators of a university collectively
Origin of university
Middle English
universite
from Middle French
université
from Medieval Latin
universitas
from L, the whole, universe, society, guild from
universus:
see universe
---
university
noun
pl.
u·ni·ver·si·ties
An institution for higher learning with teaching and research facilities typically including a graduate school and professional schools that award master's degrees and doctorates and an undergraduate division that awards bachelor's degrees.
The buildings and grounds of such an institution.
The body of students and faculty of such an institution.
Origin of university
Middle English
universite
from
Old French
from
Medieval Latin
ūniversitās
from
Latin
the whole, a corporate body
from
ūniversus
whole
; see
universe
.
---
university

Noun
(plural universities)
Institution of higher education (typically accepting students from the age of about 17 or 18, depending on country, but in some exceptional cases able to take younger students) where subjects are studied and researched in depth and degrees are offered.

The only reason why I haven't gone to university is because I can't afford it.
Usage notes
In the United States, institutions calling themselves universities are generally relatively large (compared to colleges), and offer postgraduate degrees in addition to undergraduate degrees. In other countries, this distinction is not made and any degree-granting institution is called a university.
In the United States, students will sometimes say that they go to "the university" or to "a university", but they are far more likely to say they are going "to college". In the UK, students go to "university", sans the article. In Canada, students go "to university" (also without the article) if they are attending a school that grants bachelor's or postgraduate degrees.
Origin
From Middle English, "institution of higher learning," "body of persons constituting a university," from Anglo-Norman université, from Old French universitei, from Medieval Latin stem of universitas, in juridical and Late Latin "A number of persons associated into one body, a society, company, community, guild, corporation, etc.," in Latin, "the whole, aggregate," from universus ("whole, entire")
---