noun
The definition of a university is a high-level school offering classes that can lead to a bachelor's degree, or to master's and doctoral degrees at the graduate level.

An example of a university is the University of California at Berkeley.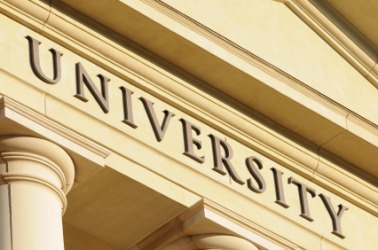 A university building.
---
university definition by Webster's New World
noun
pl.
universities
an educational institution of the highest level, typically, in the U.S., with one or more undergraduate colleges, together with a program of graduate studies and a number of professional schools, and authorized to confer various degrees, as the bachelor's, master's, and doctor's
the grounds, buildings, etc. of a university
the students, faculty, and administrators of a university collectively
Origin: Middle English universite ; from Middle French université ; from Midieval Latin universitas ; from Classical Latin the whole, universe, society, guild ; from universus: see universe
Webster's New World College Dictionary Copyright © 2010 by Wiley Publishing, Inc., Cleveland, Ohio. Used by arrangement with John Wiley & Sons, Inc.
---
university definition by American Heritage Dictionary
noun
pl.
u·ni·ver·si·ties
An institution for higher learning with teaching and research facilities constituting a graduate school and professional schools that award master's degrees and doctorates and an undergraduate division that awards bachelor's degrees.
The buildings and grounds of such an institution.
The body of students and faculty of such an institution.
Origin: Middle English universite, from Old French, from Medieval Latin ūniversitās, from Latin, the whole, a corporate body, from ūniversus, whole; see universe.