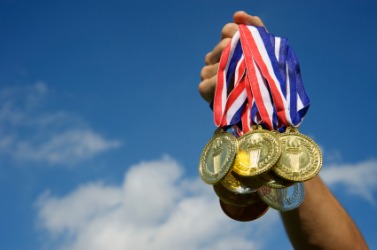 A champ holds up his medals.
noun
The definition of champ is short for champion, and refers to a winner or someone who excels and enjoys victories.

An example of a champ is someone who won an Olympic gold medal.
---
champ
to chew hard and noisily; munch
Origin of champ
earlier
cham
; probably echoic
champ at the bit
to bite upon its bit repeatedly and restlessly: said of a horse
to show impatience at restraint; be restless
Informal
champion (sense )
---
champ
verb
champed, champ·ing, champs
verb
transitive
To bite or chew upon noisily.
verb
intransitive
To work the jaws and teeth vigorously.
Origin of champ
Probably imitative
noun
Informal
A champion.
---
champ

Noun
(plural champs)
(countable) shortened form of champion
Noun
(countable and uncountable, plural champs)
(Ireland, uncountable) a meal of mashed potatoes and scallions
Verb
(third-person singular simple present champs, present participle champing, simple past and past participle champed)
Origin
uncertain, probably imitative
Proper noun
(cryptozoology) A large aquatic creature, similar to the Loch Ness monster, which supposedly lives in Lake Champlain, located on the shared borders of the American states of Vermont and New York and the Canadian province of Quebec.
See also:
champ
---