verb
To gnaw is defined as to bite and wear away a small part at a time.

An example of to gnaw is a dog chewing on a bone.
YourDictionary definition and usage example. Copyright © 2013 by LoveToKnow Corp.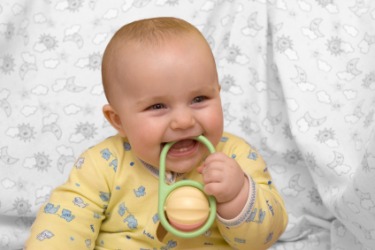 A baby gnaws a toy.
Licensed from iStockPhoto
---
transitive verb
gnawed, gnawed or

Rare

gnawn, gnawing
to cut, bite, and wear away bit by bit with the teeth
to make by gnawing: to gnaw a hole
to consume; wear away; corrode
to torment, as by constant pain, fear, etc.; harass
Origin: Middle English gnawen from Old English gnagen, akin to German nagen (OHG gnagan) from Indo-European an unverified form ghnēgh from base an unverified form ghen-, to gnaw away, rub away from source gnash, gnat
intransitive verb
to bite repeatedly: with on, away, at, etc.
to produce a biting, consuming, corroding, eroding, tormenting, etc. effect: with on, at, etc.: waves gnawed away at the shore; fear gnawed on his consciousness
Webster's New World College Dictionary
Copyright © 2010 by Wiley Publishing, Inc., Cleveland, Ohio.
Used by arrangement with John Wiley & Sons, Inc.
---
verb
gnawed
gnawed
,
gnaw·ing
,
gnaws
verb
, transitive
a. To bite, chew on, or erode with the teeth.

b. To produce by gnawing:

gnaw a hole.

See Synonyms at

bite

.

c. To erode or diminish gradually as if by gnawing: waves gnawing the rocky shore.

To afflict or worry persistently: fear that constantly gnawed me.
verb
, intransitive
To bite or chew persistently: The dog gnawed at the bone.
To cause erosion or gradual diminishment.
To cause persistent worry or pain: Hunger gnawed at the prisoners.
Origin: Middle English gnauen, from Old English gnagan.
Related Forms:
The American Heritage® Dictionary of the English Language
, 4th edition Copyright © 2010 by Houghton Mifflin Harcourt Publishing Company. Published by Houghton Mifflin Harcourt Publishing Company. All rights reserved.