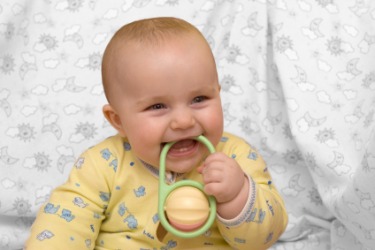 A baby gnaws a toy.
verb
To gnaw is defined as to bite and wear away a small part at a time.

An example of to gnaw is a dog chewing on a bone.
---
gnaw
transitive verb
gnawed

,

gnawed

or

Rare

gnawn

,

gnaw′ing
to cut, bite, and wear away bit by bit with the teeth
to make by gnawing: to gnaw a hole
to consume; wear away; corrode
to torment, as by constant pain, fear, etc.; harass
Origin of gnaw
Middle English
gnawen
from Old English
gnagen
, akin to German
nagen
(OHG
gnagan
) from Indo-European an unverified form
ghn?gh
from base an unverified form
ghen-
, to gnaw away, rub away from source gnash, gnat
to bite repeatedly: with on, away, at, etc.
to produce a biting, consuming, corroding, eroding, tormenting, etc. effect: with on, at, etc.: waves gnawed away at the shore; guilt gnawed at his conscience
---
gnaw
verb
gnawed, gnaw·ing, gnaws
verb
transitive
a. To bite, chew on, or erode with the teeth.

b. To produce by gnawing: gnaw a hole.

c. To erode or diminish gradually as if by gnawing: waves gnawing the rocky shore.

To afflict or worry persistently: fear that constantly gnawed me.
verb
intransitive
To bite or chew persistently: The dog gnawed at the bone.
To cause erosion or gradual diminishment.
To cause persistent worry or pain: Hunger gnawed at the prisoners.
Origin of gnaw
Middle English
gnauen
from
Old English
gnagan
Related Forms:
---
gnaw

Verb
(third-person singular simple present gnaws, present participle gnawing, simple past gnawed, past participle gnawed or gnawn)
To bite something persistently, especially something tough.

The dog gnawed the bone until it broke in two.

(intransitive) To produce excessive anxiety or worry.

Her comment gnawed at me all day and I couldn't think about anything else.
Origin
From Old English gnagan, from Proto-Germanic *gnaganą. Cognate with Dutch knagen, German nagen, Swedish gnaga.
---