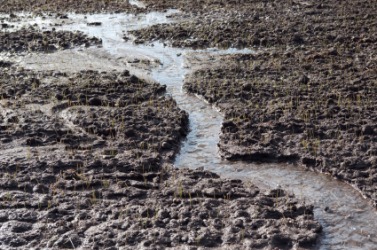 This stream of water will erode the field.
verb
To erode is defined as to gradually wear away, or to be gradually worn away.

When water continually washes over soil and begins to wash away that soil, this is an example of a situation where the water erodes the soil.
When the side beds of a stream are washed away because of the ongoing movement of the water, this is an example of a situation where the side beds can be said to erode.
When someone's confidence is gradually worn away at and diminished, this is an example of a situation where his confidence is eroded.
---
erode
transitive verb
eroded, eroding
to eat into; wear away; disintegrate: acid erodes metal
to form by wearing away gradually: the running water eroded a gully
to cause to deteriorate, decay, or vanish
Origin of erode
French
éroder
; from Classical Latin
erodere
; from
e-
, out, off +
rodere
, to gnaw: see rat
intransitive verb
to become eroded
city in Tamil Nadu state, S India, on the Cauvery River: pop. 159,000
---
erode
verb
e·rod·ed
,
e·rod·ing
,
e·rodes
verb
, transitive
To wear (something) away by erosion: Waves eroded the shore.
To eat into; corrode: The water's acidity eroded the pipe.
To make or form by wearing away: The river eroded a deep valley.
To cause to diminish or deteriorate: "Long enduring peace often erodes popular resolution" (C.L. Sulzberger).
verb
, intransitive
To become worn or eaten away: The cliffs have eroded over the centuries.
To diminish or deteriorate: Public confidence in the administration eroded.
Origin of erode
Latin
ērōdere
,
to gnaw off, eat away
:
ē-, ex-
,
ex-
+
rōdere
,
to gnaw
; see
rēd-
in Indo-European roots.
Related Forms:
---
erode
Verb
(third-person singular simple present erodes, present participle eroding, simple past and past participle eroded)
---