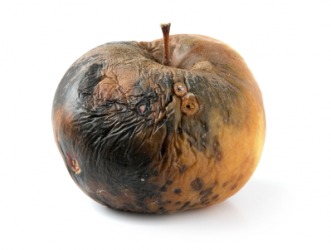 An apple in an advanced state of decay.
noun
Decay is defined as rotted matter or the state of rotting, deteriorating or declining.

An example of decay is what has happened to an old abandoned building.
verb
To decay is defined as to rot, lose strength or deteriorate.

An example of decay is when old fruit begins to rot.
An example of decay is when a neighborhood starts to become crime-ridden.
---
decay
to lose strength, soundness, health, beauty, prosperity, etc. gradually; waste away; deteriorate
to rot or decompose
to undergo radioactive disintegration spontaneously
Origin of decay
Middle English
decaien
from Anglo-French and Old French
decäir
from Vulgar Latin an unverified form
decadere
: see decadence
a gradual decline; deterioration
a wasting away
a rotting or decomposing, as of vegetable matter

rottenness
decayed or rotted matter

the spontaneous disintegration of radioactive atoms with a resulting decrease in their number
the spontaneous disintegration of a particle or nucleus, as a meson, baryon, etc., as it changes into a more stable state
---
decay
verb
de·cayed, de·cay·ing, de·cays
verb
intransitive
Biology To break down into component parts; rot.
Physics To disintegrate in a process of radioactive decay or particle decay.
Electronics To decrease gradually in magnitude. Used of voltage or current.
Aerospace To decrease in orbit. Used of an artificial satellite.
To fall into ruin: a civilization that had begun to decay.
To decline in health or vigor; waste away.
To decline from a state of normality, excellence, or prosperity; deteriorate.
verb
transitive
To cause to decay.
noun
a. The destruction or decomposition of organic matter as a result of bacterial or fungal action; rot.

b. Rotted matter.

Physics
Aerospace The decrease in orbital altitude of an artificial satellite as a result of conditions such as atmospheric drag.
A gradual deterioration to an inferior state: tooth decay; urban decay.
A falling into ruin.
Origin of decay
Middle English
decayen
from
Old French
decair
from
Vulgar Latin
dēcadere
Latin
dē-
de-
Latin
cadere
to fall
; see
kad-
in Indo-European roots.
Related Forms:
---
decay

Verb
(third-person singular simple present decays, present participle decaying, simple past and past participle decayed)
(intransitive) To deteriorate, to get worse, to lose strength or health, to decline in quality.

The pair loved to take pictures in the decaying hospital on forty-third street.

(intransitive, electronics, of storage media or the data on them) To undergo bit rot, that is, gradual degradation.
(intransitive, physics, of a satellite's orbit) To undergo prolonged reduction in altitude (above the orbitted body).

2009, Francis Lyall, Paul B. Larsen, Space Law: A Treatise, page 120:

(intransitive, of organic material) To rot, to go bad.

The cat's body decayed rapidly.

(intransitive, physics, chemistry, of an unstable atom) To change by undergoing fission, by emitting radiation, or by capturing or losing one or more electrons.
(intransitive, physics, of a quantum system) To undergo optical decay, that is, to relax to a less excited state, usually by emitting a photon or phonon.
(aviation)
To cause to rot or deteriorate.

The extreme humidity decayed the wooden sculptures in the museum's collection in a matter of years.
---
decay - Computer Definition
The gradual reduction of strength of a signal or charge.
---