pristine

pris·tine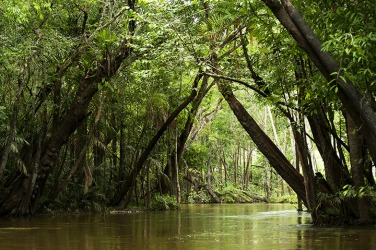 Igarapé in the Brazilian Amazon is a pristine rainforest.
adjective
The definition of pristine is something that is still in its original condition or still pure.

An example of pristine is a forest that hasn't been logged or damaged by humans.
---
pristine
Archaic

characteristic of the earliest, or an earlier, period or condition; original
still pure; uncorrupted; unspoiled: pristine beauty
having the characteristics of something new and fresh: wearing a pristine white pinafore
Origin of pristine
Classical Latin
pristinus
, former from Old Latin
pri
, before: see prime
---
pristine
adjective
a. Remaining in a pure state, without human alteration: a pristine stream.

b. Remaining free from dirt or decay; clean: pristine mountain snow.

Of, relating to, or typical of the earliest time or condition; primitive or original.
Origin of pristine
Latin
prīstinus
; see
per
1
in Indo-European roots.
Related Forms:
---
pristine

Origin
From Middle French pristin.
Adjective
(comparative more pristine, superlative most pristine)
Relating to sawfishes of the family Pristidae.
Origin
From Ancient Greek πρίστης (pristÄ"s, "a saw, one that saws")
---