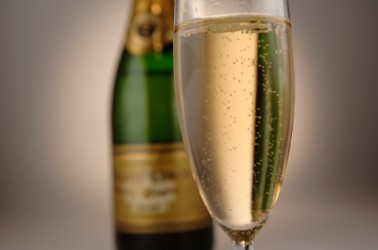 A bottle and single glass of champagne wine.
Licensed from iStockPhoto
---
noun
Archaic

any of various wines produced in Champagne, France

now, any effervescent white wine made there or elsewhere: regarded as a symbol of luxurious living
the typical color of such wine; pale, tawny yellow or greenish yellow
agricultural and historical region of NE France: now mostly in the metropolitan region of , which also includes part of the Ardennes plateau: 9,887 sq mi (25,607 sq km); pop. 1,348,000; chief city, Reims
Webster's New World College Dictionary
Copyright © 2010 by Wiley Publishing, Inc., Cleveland, Ohio.
Used by arrangement with John Wiley & Sons, Inc.
---
noun
a. A sparkling white wine made from a blend of grapes, especially Chardonnay and pinot, produced in Champagne.

b. A similar sparkling wine made elsewhere.

A pale orange yellow to grayish yellow or yellowish gray.
Origin: French, short for (vin de) Champagne, (wine from) Champagne, from Late Latin campānia, flat open country; see campaign.
A historical region and former province of northeast France. It was incorporated into the French royal domain in 1314. The sparkling wine champagne was first produced here c. 1700.
The American Heritage® Dictionary of the English Language
, 4th edition Copyright © 2010 by Houghton Mifflin Harcourt Publishing Company. Published by Houghton Mifflin Harcourt Publishing Company. All rights reserved.