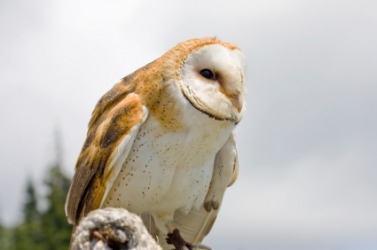 A barn owl.
---
barn owl
any of a family (Tytonidae) of owls, esp. a widely distributed species (Tyto alba), usually brown and gray with a spotted white breast, found chiefly in hollow trees or barns, that feeds on rats and mice
---
barn owl
noun
A predatory nocturnal bird (Tyto alba) having a white, heart-shaped face, buff-brown upper plumage, and pale underparts, often nesting in barns and other buildings. Also called monkey-faced owl.
---
barn owl
Noun
(plural barn owls)
An owl of the genus Tyto, often having a white face and commonly found in barns and other farm buildings.
Adjective
barn-owl
attributive form of barn owl, noun.

My grandfather had a barn-owl look.
---