buffer

buff·er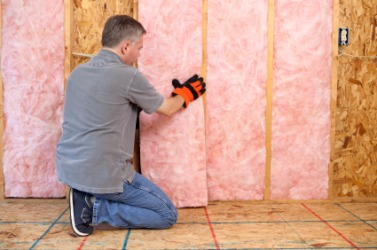 This insulation serves as a buffer against outside elements.
noun
The definition of a buffer is something that keeps opposing elements separated or someone who helps people get along who are argumentative with each other.

An example of a buffer is a piece of land between two cities.
An example of a buffer is a mediator at divorce proceedings who helps the arguing couple to not fight as they try to settle their property issues.
verb
To buffer is to lessen or reduce the impact of sound or impact.

An example of buffer is to add insulation which buffers the sound from outside.
---
buffer
a person who buffs or polishes
a buffing wheel, stick, block, or cloth
Origin of buffer
buff, transitive verb + -er
a device using padding, springs, hydraulic pressure, etc. to lessen or absorb the shock of collision or impact
any person or thing that serves to lessen shock or prevent sharp impact, as between antagonistic forces
any substance in a solution that tends to stabilize the hydrogen ion concentration by neutralizing any added acid or alkali
a computer storage area that temporarily holds data being transferred from one device to another, as to compensate for the different processing rates of the devices
Origin of buffer
buff, verb + -er
to protect against shock or impact; cushion or insulate

Chem.

to add a buffer to (a solution)
Brit., Informal
an elderly man variously regarded as old-fashioned, stodgy, ineffectual, etc.: usually used with
old
---
buffer
noun
One that buffs, especially a piece of soft leather or cloth used to shine or polish.
A buffing wheel.
noun
Something that lessens or absorbs the shock of an impact.
One that protects by intercepting or moderating adverse pressures or influences: "A sense of humor … may have served as a buffer against the … shocks of disappointment" ( James Russell Lowell )
Something that separates potentially antagonistic entities, as an area between two rival powers that serves to lessen the danger of conflict.
Chemistry A solution that resists a change in acidity when an acid or base is added to it, or a substance that facilitates this resistance.
Computers A device or area used to store data temporarily.
transitive verb
buff·ered, buff·er·ing, buff·ers
To act as a buffer for or between.
Chemistry To treat (a solution) with a buffer.
Computers To hold or collect (data) in a buffer.
Origin of buffer
Probably from obsolete
buff
to make a sound like a soft body being hit
of imitative origin
---
buffer

---
buffer - Computer Definition

A region of memory that temporarily stores data in a networking device, commonly to compensate for congestion at an incoming or outgoing port on a concentrator, multiplexer, switch, or router. If, for example, the level of incoming traffic exceeds the resources of a switch, a buffer at the incoming switch port can temporarily store the excess traffic until the switch has sufficient resources to process the traffic. If the level of outgoing traffic exceeds the capacity of the circuit, a buffer at the outgoing switch port can temporarily store the excess traffic until the circuit can accommodate it. A buffer also can serve to store packet data temporarily to allow retransmission in the event that a downstream device does not receive the packet without error within an acceptable period of time.
A standalone storage device specifically designed to store data until such time as it is downloaded by another device for processing. A PBX system, for example, commonly outputs call detail records to a buffer, which stores them in temporary memory until a centralized poller accesses the buffer and downloads the data for subsequent processing into various call detail reports for purposes of cost allocation and management, traffic analysis, and security analysis.
Electrically powered mechanical device that rotates abrasive pads for cleaning floors. Buffers are known to cause network problems when plugged into shared outlets by injecting electrical noise or blowing fuses. Note: It is always a good idea to make sure that a computer system has access to clean power, i.e., a dedicated circuit that, by definition, will be free of power dips caused by buffers and other devices. See also CDR and register.
A protective material sometimes extruded directly on the acrylate coating of an optical fiber to further allow individual fibers to be handled easily during installation, while protecting them from physical damage. A tight buffered cable is used for short jumper cables and many other indoor applications where the temperature is controlled and the differences in thermal expansion and contraction are not so great between the buffer and fiber as to cause bending, which ultimately can lead to cracking and breaking of the fiber. See also loose-tube cable.
---
A reserved segment of memory within a program that is used to hold the data being processed. Buffers are set up to hold data coming in from and going out to the network or a local file. In a streaming media application, the program uses buffers to store an advance supply of audio or video data to compensate for momentary delays. With computers, each application can allocate and deallocate its buffers from the general memory pool. For printers and other peripherals, the buffers provide temporary storage for data in the memory of the device. See buffering, double buffering, buffer overflow, buffer flush and bucket.
---