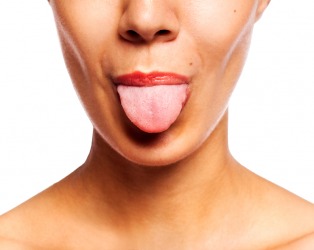 This is a tongue.
noun
The definition of a tongue is the muscular organ attached to the floor of the mouth in most animals, or something that resembles a tongue's shape.

Facts About the Human Tongue

Colors

If you have white on your tongue, you should get it checked out. It could be a fungus.
A yellowish coating means that you may have either a fever or a stomach problem.
A pale pink shade could indicate disease.

Taste Buds

Your tongue has thousands of taste buds located on its surface.

Sometimes taste buds will grow too much, and you will appear to have a hairy tongue.
The salt and sweet taste buds sit at the tip of the tongue, while sour are along the sides, and bitter are at the base.
Approximately 10% of taste buds are found on the palette and cheek.

Tongues can pick up a fifth taste, which is known as glutamate.
Eating something cold changes the way that your tongue perceives taste and will often detract from the taste of whatever the next item is that you eat or drink.
The nose works with the tongue to provide the taste.

Function

The tongue is crucial to speaking, eating, and swallowing.
The front part of the tongue is extremely flexible, and this is the part that is most often associated with the mechanism of speaking.
The front of your tongue also moves food around your mouth so that you are able to properly chew it up.
The muscles located in the back of your tongue are responsible for making certain sounds such as the letter "k" and the hard "g" sound.
Muscles in the back of the tongue help to push food into the esophagus.
Even when you sleep, your tongue keeps working to push saliva into your throat.

Appearance

Every tongue has its own tongue print.
The tongue is the strongest muscle in the body.

The tongue is the only muscle in the entire body that is only connected on one end.

The tongue is covered by a mucus membrane.

Tongues are generally rough in texture.

Keeping It Healthy

The tongue heals the quickest of any body part.
You should brush your tongue to keep it healthy. Bad breath quite frequently comes from your tongue.
Almost half of all of the bacteria in the mouth live on the surface of the tongue.

History

Tongue piercing has been around since ancient times.
The same word is used for tongue and language in Russian, Persian, Portuguese, Spanish, Greek, Armenian, Polish, Finnish, Irish, and Latin Turkic.

An example of a tongue is the muscular part inside the mouth that helps you taste food.
An example of a tongue is part of a sneaker that gets tucked in on the top of the foot before the shoe is laced up.

Tongue is defined as a spoken language or dialect.

An example of a tongue is someone speaking Spanish at home.
verb
Tongue means to touch or lick with the tongue.

An example of to tongue is lightly tasting something with the tip of your tongue that you're not sure you'll like.
---
tongue
the movable muscular structure attached to the floor of the mouth in most vertebrates: it is an important organ in the ingestion of food, the perception of taste, and, in humans, the articulation of speech sounds
an analogous part in invertebrate animals; specif.,

a radula
the proboscis in certain insects, as bees

an animal's tongue used as food

the human tongue as the organ of speech
ideas expressed by speaking; talk; speech
the act or power of speaking
a manner or style of speaking, with reference to tone, diction, etc.: a glib tongue

a language or dialect
in the Bible, a nation or people speaking a distinct language: Rev. 7:9

[pl.] see glossolalia
the cry of a hunting dog, etc. in sight of game: chiefly in

give tongue

, to start barking
something resembling a tongue in shape, position, movement, or use; specif.,

the flap under the laces or strap of a shoe
the clapper of a bell
the pin of a buckle, etc.
the pole of a wagon, etc.
a projecting ridge along the edge of a board, that fits into a corresponding groove on another board to form a tongue-and-groove joint
in machines, a projecting flange, rib, etc.
a thin strip of flexible material, as cane, that produces a musical sound when vibrated, as in a wind instrument
a narrow strip of land, ice, etc. extending into a body of water, an intrusion, etc.
a narrow inlet of water
a long, narrow flame
the pointer of a scale, etc.
Origin of tongue
Middle English
tunge
from OE, akin to German
zunge
from Indo-European base an unverified form
d??h?-
, tongue from source Classical Latin
lingua
(OL
dingua
)
transitive verb
tongued

,

tongu′ing
Archaic

to reproach or scold
to speak or say

to touch, lick, etc. with the tongue

to cut a tongue (sense ) on
to join by means of a tongue-and-groove joint

Music

to play by tonguing
Rare

to talk or talk much
to project like a tongue

Music

to use tonguing
find one's tongue
to recover the ability to talk, as after shock or embarrassment
on everyone's tongue
prevailing as common gossip
on the tip of someone's tongue
almost said by someone
about to be said, esp. because almost but not quite recalled
with tongue in cheek
in a humorously ironic, mocking, or insincere way
---
tongue
noun
a. The fleshy, movable, muscular organ, attached in most vertebrates to the floor of the mouth, that is the principal organ of taste, an aid in chewing and swallowing, and, in humans, an important organ of speech.

b. An analogous organ or part in invertebrate animals, as in certain insects or mollusks.

The tongue of an animal, such as a cow, used as food.
A spoken language or dialect.

a. Speech; talk: If there is goodness in your heart, it will come to your tongue.

b. The act or power of speaking: She had no tongue to answer.

c. tongues Speech or vocal sounds produced in a state of religious ecstasy.

d. Style or quality of utterance: her sharp tongue.

The bark or baying of a hunting dog that sees game: The dog gave tongue when the fox came through the hedge.
Something resembling a tongue in shape or function, as:

a. The vibrating end of a reed in a wind instrument.

b. A flame.

c. The flap of material under the laces or buckles of a shoe.

d. A spit of land; a promontory.

e. A bell clapper.

f. The harnessing pole attached to the front axle of a horse-drawn vehicle.

A protruding strip along the edge of a board that fits into a matching groove on the edge of another board.
verb
tongued, tongu·ing, tongues
verb
transitive
Music To separate or articulate (notes played on a brass or wind instrument) by shutting off the stream of air with the tongue.

a. To touch or lick with the tongue.

b. To give (someone) a French-kiss.

a. To provide (a board) with a tongue.

b. To join by means of a tongue and groove.

Archaic To scold.
verb
intransitive
Music To articulate notes on a brass or wind instrument.
To project: a spit of land tonguing into the bay.
Origin of tongue
Middle English
from
Old English
tunge
; see
d&nlowring;ghū-
in Indo-European roots.
---
tongue

Noun
(plural tongues)
The flexible muscular organ in the mouth that is used to move food around, for tasting and that is moved into various positions to modify the flow of air from the lungs in order to produce different sounds in speech.
Any similar organ, such as the lingual ribbon, or odontophore, of a mollusk; the proboscis of a moth or butterfly; or the lingua of an insect.
A language.

He was speaking in his native tongue.

The power of articulate utterance; speech generally.
(religion, often in the plural) Glossolalia.
In a shoe, the flap of material that goes between the laces and the foot, so called because it resembles a tongue in the mouth.
Any large or long physical protrusion on an automotive or machine part or any other part that fits into a long groove on another part.
A projection, or slender appendage or fixture.

the tongue of a buckle, or of a balance

A long, narrow strip of land, projecting from the mainland into a sea or lake.
The pole of a vehicle; especially, the pole of an ox cart, to the end of which the oxen are yoked.
A small sole (type of fish).
(nautical) A short piece of rope spliced into the upper part of standing backstays, etc.; also, the upper main piece of a mast composed of several pieces.
(music) A reed.
Verb
(third-person singular simple present tongues, present participle tonguing, simple past and past participle tongued)
(music, intransitive) On a wind instrument, to articulate a note by starting the air with a tap of the tongue, as though by speaking a 'd' or 't' sound (alveolar plosive).

Playing wind instruments involves tonguing on the reed or mouthpiece.

(slang) To manipulate with the tongue, as in kissing or oral sex.
To protrude in relatively long, narrow sections.

a soil horizon that tongues into clay

To join by means of a tongue and groove.

to tongue boards together
Origin
From Middle English tonge, tunge, tung, from Old English tunge, from Proto-Germanic *tungÇ­ ("tongue") (compare West Frisian tonge, Dutch tong, German Zunge, Danish tunge, Swedish tunga), from Proto-Indo-European *dn̥ǵʰwéhâ''s (compare Irish teanga, Latin lingua, Tocharian A/B känt/kantwo, Lithuanian liežùvis, Polish jÄ™zyk 'language, tongue', Armenian Õ¬Õ¥Õ¦Õ¸Ö' (lezu), Sanskrit जिह्वा (jihvā́)).
---