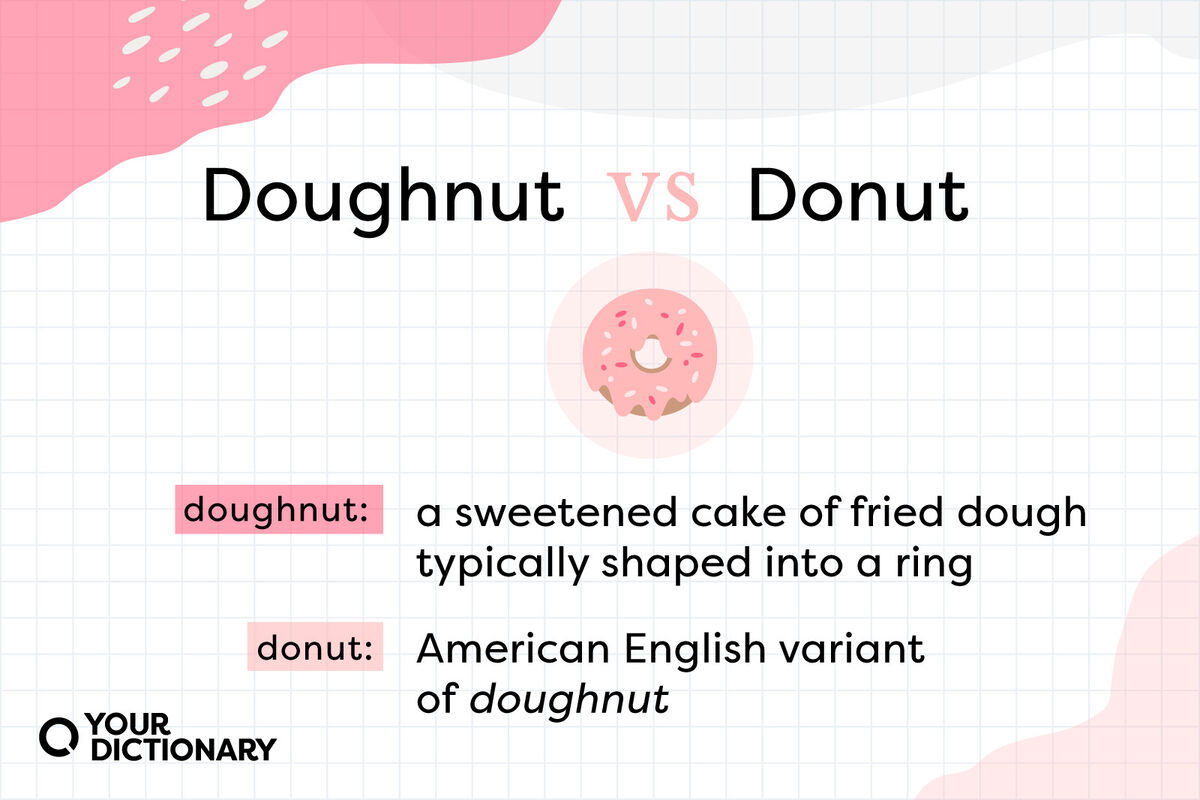 Whether you prefer sprinkles or glazed, cake or yeast, crullers or apple fritters, the humble donut is a thing of true beauty. What gets confusing is the spelling. While some prefer doughnut, others cling to the variation donut, especially in the U.S. But, much like the humble doughnut itself, there's no wrong choice.
Why Are There Two Spellings of 'Donut'?
Both doughnut and donut are correct spellings for the same baked treat. Doughnut came first before donut entered the public sphere. The first mention of doughnut comes from Washington Irving, who referred to it in relation to the Dutch olikoek, literally meaning "oil cake." The alternate spelling, donut, may have been used as early as 1870, after which it became popular in bakery names. 
Donut is an example of phonetic-based spelling reform, or spelling words based on how they sound. With dough, you run into the confusion of -ough, an ending that has nine potential pronunciations in English. For example, bough (bou), cough (kof), and through (throo) all have different pronunciations, and none of those pronunciations are the same as dough (doe). The donut spelling reduces that potential for confusion.
So why is this yummy treat called a doughnut (or donut) to begin with? Doughnut is a compound word consisting of dough and nut. Dough, meaning an unbaked combination of flour or meal with water, milk, or other liquids, is self-explanatory, but nut is a bit of a mystery. 
One theory: The original doughnut did not have a hole, making the lump of fried dough resemble a nut. Other theories suggest that the first doughnuts contained a filling of hazelnuts or walnuts.
Regional Uses of 'Doughnut' and 'Donut'
YourDictionary and the Oxford English Dictionary (OED) use both spellings, while the AP Stylebook lists doughnut as the preferred spelling. The OED notes that, generally, donut is the preferred American English spelling, while doughnut is favored by British English speakers.
Even then, reports suggest it's not uncommon to find donut in parts of the UK and New Zealand. Much of that comes from popular brands, such as Dunkin' Donuts, and events like National Donut Day. On the other hand, Krispy Kreme favors the doughnut spelling. 
Should You Use 'Doughnut' or 'Donut' in Writing?
Ultimately, neither is wrong in formal writing. Donut is simply a variant of doughnut. However, even with the regional differences, doughnut is still the preferred spelling for most people. If you're writing for a more international audience, doughnut might be the better option too.
Words naturally tend to get shortened online, so donut is perfectly fine if you want to save time and characters.
The choice does matter when it comes to brand names. For example, make sure you use donut when referring to Dunkin' Donuts (not "Dunkin' Doughnuts").
Who Baked the First Doughnut?
The doughnut's journey is full of unexpected twists and details that are often glazed over. Archeologists discovered what appeared to be a form of doughnuts in prehistoric Native American settlements. 
The modern doughnut that we know today came in the mid-19th century from Elizabeth Gregory, the mother of a ship captain.The exact origin of the hole isn't well known, though legend has it that Hanson Gregory, Elizabeth's son, recommended taking out the center of the doughnut to help the dough cook through. Other legends suggest that the hole came when Hanson speared a doughnut onto his ship's wheel. This created a hole in the pastry's center and changed history forever.