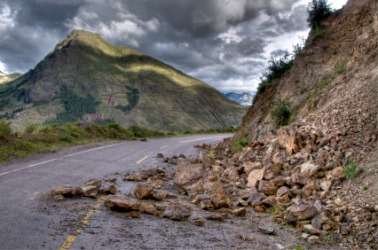 A landslide of rocks has partially covered this road.
noun
The definition of a landslide is a situation when dirt, rock or other pieces of earth begin to slide down a mountain or slope, or when someone wins a contest by a big majority.

An example of a landslide is when heavy rains cause dirt and earth to fall rapidly down a cliff, sometimes even carrying buildings down with them.
An example of a landslide is when a candidate wins by 100 to 1.
---
landslide
the sliding of a mass of loosened rocks or earth down a hillside or slope
the mass of loosened material sliding down
an overwhelming majority of votes for one candidate or party in an election
any overwhelming victory
---
landslide
noun
a. The downward sliding of a relatively dry mass of earth and rock.

b. The mass that slides. Also called landslip .

a. A percentage of votes greatly exceeding the required margin of victory.

b. An election that sweeps a party or candidate into office.

A great victory.
Related Forms:
---
landslide

Noun
(plural landslides)
A natural disaster that involves the breakup and downhill flow of rock, mud, water and anything caught in the path.
---