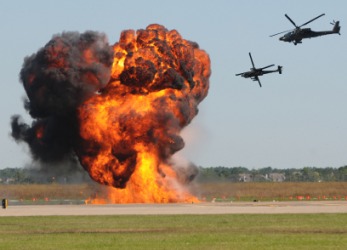 A field being bombarded by helicopter artillery.
verb
The definition of bombard is to attack continuously or repeatedly.

When the United States repeatedly drops missiles and bombs in a full-on attack against an enemy city, this is an example of when the U.S. bombards the city.
When you ask someone over and over why they are doing what they are doing during each step of a project and you inquire about every detail and every move, this is an example of when you bombard the person with questions.
---
bombard
to attack with or as with artillery or bombs
to keep attacking or pressing with questions, suggestions, etc.
to direct a stream of particles at (atomic nuclei) to produce nuclear transmutations
Origin of bombard
French
bombarder
from
bombarde,
mortar from
bombe,
bomb
the earliest type of cannon, originally for hurling stones
---
bombard
transitive verb
bom·bard·ed, bom·bard·ing, bom·bards
To attack with bombs, shells, or missiles.
To assail persistently; harass: "

[patients]

bombarded with bewildering terms like 'managed competition' and 'risk selection'" ( Carla Cantor ) See Synonyms at barrage2.
To irradiate (an atom).
To attack with a cannon firing stone balls.
noun
An early form of cannon that fired stone balls.
Origin of bombard
From
Middle English
a bombard
from
Old French
bombarde
from
Medieval Latin
bombarda
probably from
Latin
bombus
a booming sound
; see
bomb
.
Related Forms:
---
bombard

Verb
(third-person singular simple present bombards, present participle bombarding, simple past and past participle bombarded)
(figuratively) To attack something or someone by directing objects at them.
---