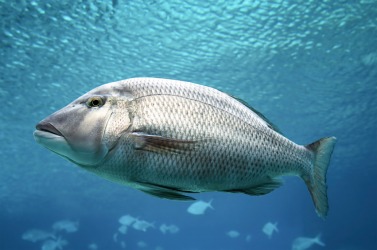 A barramundi.
---
barramundi
noun
pl. barramundi, barramundis, barramundies
the Australian lungfish (Neoceratodus forsteri): the only existing species of an order (Ceratodiformes) of bony fishes having one lung, large scales, and paddlelike fins
any of various edible, freshwater, Australian percoid fishes (esp. genus Scleropages)
---
barramundi
noun
pl.
barramundi
barramundi
or
bar·ra·mun·dis
A catadromous food and game fish (Lates calcarifer) found from the Indian Ocean to the western Pacific. It is an important commercial species in Australia.
Origin of barramundi
Probably of Aboriginal origin
.
---
barramundi
Origin
From an Australian Aboriginal language of the Rockhampton area in Queensland.
---
barramundi
Variant of barramundi
noun
pl. barramundi, barramundis, barramundies
the Australian lungfish (Neoceratodus forsteri): the only existing species of an order (Ceratodiformes) of bony fishes having one lung, large scales, and paddlelike fins
any of various edible, freshwater, Australian percoid fishes (esp. genus Scleropages)