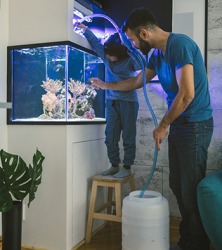 Devon helped his father siphon the water from the fish tank into the container.
noun
The definition of a siphon is a tube that is used to draw liquid from one container into another, lower container by atmospheric pressure and gravity.

An example of a siphon is a tube where gas is forced out of a gas tank into a gas container on the ground.
verb
To siphon is to run a tube from one container to another in a way that uses atmospheric pressure to move the liquid into the lower container.

When you hook up a tube to a gas tank and then use atmospheric pressure to move the gas out of that tank into a gas canister below it, this is an example of a time when you siphon.
---
siphon
a bent tube used for carrying liquid from a reservoir over the top edge of its container to a point below the surface of the reservoir: the tube must be filled, as by suction, before flow will start
siphon bottle
a tubelike organ in some animals, as cuttlefishes, used for drawing in or ejecting liquids
Origin of siphon
French from Classical Latin
sipho
(gen.
siphonis
) from Classical Greek
siph?n
, tube, siphon
to draw off or carry through or as through a siphon

---
siphon
also sy·phon
noun
A tube that carries a liquid from a higher level up and over a barrier and then down to a lower level, with the flow maintained by gravity and atmospheric pressure as long as the tube remains filled.
Zoology A tubular organ, especially of aquatic invertebrates such as squids or clams, by which water is taken in or expelled.
verb
si·phoned, si·phon·ing, si·phons,
also
sy·phoned
or
sy·phon·ing
or
sy·phons
verb
transitive
To draw off or convey (a liquid) through a siphon.
To take or transfer (something), often illicitly: siphon money from an account; siphon customers from a competitor.
verb
intransitive
To pass through a siphon.
Origin of siphon
Middle English
from
Latin
sīphō
sīphōn-
from
Greek
sīphōn
Related Forms:
si′phon·al si·phon′ic

adjective
siphon
---
siphon

Noun
(plural siphons)
A bent pipe or tube with one end lower than the other, in which hydrostatic pressure exerted due to the force of gravity moves liquid from one reservoir to another.
a soda siphon
(biology) a tubelike organ found in animals or elongated cell found in plants.
Verb
(third-person singular simple present siphons, present participle siphoning, simple past and past participle siphoned)
Origin
From Ancient Greek σίφων (siphōn, "pipe, tube")
---