reservoir

res·er·voir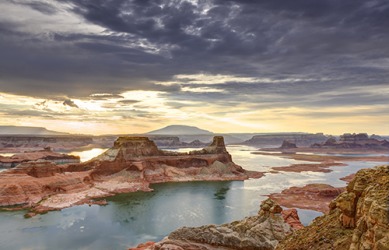 Lake Powell is the reservoir created by the Glen Canyon Dam in Arizona.
noun
The definition of a reservoir is place where a supply of something is collected, especially water.

An example of a reservoir is an area where large amounts of water are stored.
---
reservoir
a place where anything is collected and stored, generally in large quantity; esp., a natural or artificial lake or pond in which water is collected and stored for use
a receptacle or part (in an apparatus) for holding a fluid, as oil or ink
a large supply; esp., an extra or reserve supply

Biol.

a part, sac, or cavity in some animals or plants in which fluid collects or into which products are secreted
a species of organism that serves as an immune host for a parasite that can cause disease in another species
Origin of reservoir
French
réservoir
from
réserver:
see reserve
---
reservoir
noun
A natural or artificial pond or lake used for the storage and regulation of water.
A receptacle or chamber for storing a fluid.
An underground accumulation of petroleum or natural gas.
Anatomy See cisterna.
A large or extra supply; a reserve: a reservoir of goodwill.
Medicine An organism or population that directly or indirectly transmits a pathogen while being virtually immune to its effects.
Origin of reservoir
French
réservoir
from
réserver
to reserve
from
Old French
reserver
; see
reserve
.
---
reservoir

Noun
(plural reservoirs)
A place where anything is kept in store; especially, a place where water is collected and kept for use when wanted, as to supply a fountain, a canal, or a city by means of aqueducts.
Origin
From French réservoir, from réserver ("to reserve, keep").
---