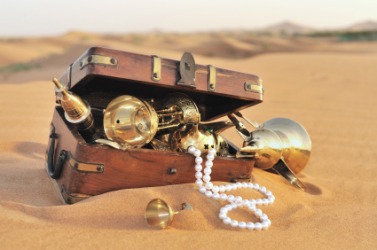 A chest of pirate treasure.
noun
Treasure is a valuable person or thing such as a collection of money, jewelry or other valuables.

An example of a treasure is a long-time member of an organization who continues to be instrumental in the success of the group.
An example of a treasure is a chest full of gold coins on a sunken pirate ship.
verb
Treasure is defined as to find value in a person or thing.

An example of to treasure is someone being very appreciative of a wonderful friend.
---
treasure
accumulated or stored wealth, esp. in the form of money, precious metals, jewels, etc.
any person or thing considered very valuable
Origin of treasure
Middle English
tresoure
from Old French
tresor
from Classical Latin
thesaurus
: see thesaurus
transitive verb
-·ured

,

-·ur·ing
to store away or save up (money, valuables, etc.) as for future use; hoard
to value greatly; cherish
---
treasure
noun
Accumulated or stored wealth in the form of money, jewels, or other valuables: search for buried treasure; spending much of the national treasure on armaments.
Valuable or precious possessions of any kind.
One considered especially precious or valuable: bought several treasures at the estate sale; saw her assistant as a treasure.
transitive verb
treas·ured, treas·ur·ing, treas·ures
To keep or regard as precious; value highly. See Synonyms at appreciate.
To accumulate or store away, as for future use: "This same withered and crumbling flower … Five and fifty years it has been treasured between the leaves of this old volume" ( Nathaniel Hawthorne )
Origin of treasure
Middle English
tresure
from
Old French
tresor
from
Latin
thēsaurus
from
Greek
thēsauros
Related Forms:
---
treasure

---