register

reg·is·ter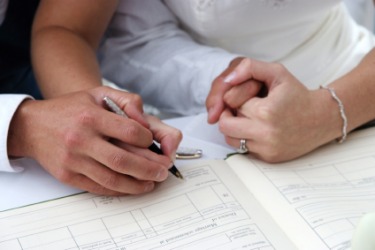 A couple signs a wedding register.
noun
The definition of a register is a book, list or record of dates, events or other important pieces of information.

An example of a register is a listing of people married in a specific church.
verb
Register is defined as to sign up, sign in or enroll.

An example of to register is to fill out the necessary paperwork to be able to vote.
An example of to register is to sign up for a class.
---
register
a record or list of names, events, items, etc., often kept by an official appointed to do so
a book in which this is kept
an entry in such a book or record

Origin of register

prob. altered < ME registrer a person who keeps such a record, esp. one legally appointed; registrar
registration; registry; enrollment
a device, as a meter or counter, for recording fares paid, money deposited, etc.: a cash register

a device in a stove or furnace for controlling the draft, etc.
an opening into a room by which the amount of warm or cold air passing, as through a duct leading from a furnace or ventilator, can be controlled

Comput.

a storage location in the central processing unit, as for holding data to be processed

Linguis.

that aspect of usage having to do with vocabulary, pronunciation, punctuation, level of formality, etc., chosen by a user in a particular social context

Music

a division of the compass of the human voice or of an instrument all the tones of which are of similar quality
a set of organ pipes controlled by a given stop or the tone quality produced by such a set

Photog.

the exact alignment of images, materials, etc., as two negatives

Printing

exact matching in position of pages, lines, etc. on opposite sides of a single sheet
exact imposition of successive colors as they are printed over each other
Origin of register
Middle English
registre
from Middle French from Medieval Latin
registrum,
altered form of
regestum
from Late Latin
regesta,
records, neuter plural of Classical Latin
regestus,
past participle of
regerere,
to record, literally , to bring back from
re-,
back +
gerere,
to bear
to enter in or as in a record or list; enroll or record officially
to transcribe permanently, as if in a register

to indicate on or as on a scale: a thermometer registers temperature
to show, as by facial expression: to register surprise
to commit (valuable mail) to a special postal service for safeguard by payment of a special fee

Printing

to cause to be in register
to enter one's name in a register, as of a hotel
to have one's name placed on the list of those eligible to vote in an election, by making application in the prescribed way
to enroll in a school, college, etc.
to make an impression

Music

to select and combine organ or harpsichord registers

Printing

to be in register
---
register
noun
a. A formal or official recording of items, names, or actions.

b. A book for such entries.

c. An entry in such a record.

The act of registering.
A device that automatically records a quantity or number.
Computers A part of the central processing unit used as a storage location.
An adjustable, grill-like device through which heated or cooled air is released into a room.
A state of proper alignment: to be in register.
Printing

a. Exact alignment of the lines and margins on the opposite sides of a leaf.

b. Proper positioning of colors in color printing.

Music

a. The range of an instrument or a voice.

b. A part of such a range.

c. A group of matched organ pipes; a stop.

A variety or level of language used in a specific social setting: speaking in an informal register; writing in a scientific register.
verb
reg·is·tered, reg·is·ter·ing, reg·is·ters
verb
transitive
a. To enter in an official register.

b. To enroll officially or formally, especially in order to vote or attend classes.

a. To set down in writing: registered the events of the day in his diary.

b. To express or make known: registered his dissatisfaction with the chef.

a. To indicate (data). Used of an instrument or scale.

b. To be indicated as: The earthquake registered 6.8 on the Richter scale.

To give outward signs of; express: Her face registered surprise.
To attain or achieve: registered a new high in sales.
To cause (mail) to be officially recorded and specially handled by payment of a fee.
To adjust so as to be properly aligned.
verb
intransitive
To place or cause placement of one's name in a register.
To have one's name officially placed on a list of eligible voters.
To enroll as a student.
To have a list of gifts for preferred wedding presents, as at a store. Used of a couple.
To be indicated on an instrument or a scale.
To be shown or expressed, as on the face: The teacher's reprimand did not register on the students' faces.
To make an impression; be recorded in the mind: The warning failed to register.
To be in proper alignment.
Origin of register
Middle English
registre
from
Old French
from
Medieval Latin
registrum
alteration of
Late Latin
regesta
from
Latin
neuter pl. past participle of
regerere
to record
re-
re-
gerere
to carry
Related Forms:
---
register

---
register - Computer Definition

A high-speed buffer, or region of memory, that is used to store digits or characters for a specific purpose. In telecommunications, a Central Office (CO) switch register stores dialed digits until the caller completes dialing the outgoing telephone number. At that point, the switch analyzes the number and determines how to process the call. If the call is within the CO switch's domain and the target telephone is available, the switch rings that phone and connects the call. If the call is a local call intended for a destination telephone outside the CO switch's domain, it will hand the call off to another CO switch within the local calling area, or perhaps to an intermediate tandem switch. A tandem switch is always involved if the call is long distance or international in nature. See also buffer and shift register.
---
(1) To sign up. See registration.
(2) A small, high-speed computer circuit that holds values of internal operations, such as the address of the instruction being executed and the data being processed. When a program is debugged, register contents may be analyzed to determine the computer's status at the time of failure. In microcomputer assembly language programming, programmers look at the contents of registers routinely. Assembly languages in larger computers are often at a higher level.
---
register - Legal Definition
v
To formally enter in a public list (as in register to vote); to make a record of (the defense registered an objection); to file a stock with the Securities and Exchange Commission, which is required before it can be offered for sale.
---