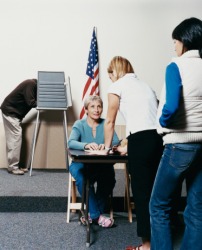 Mrs. Wilson checked each voter's identification to determine if they were registered in the precinct.
adjective
The definition of registered is a person or thing with formal or legal authorization, certification or enrollment.

An example of registered is a sex offender filing with the court where they are living.
An example of registered is a person making sure they are legally allowed to vote in the county in which they live.
---
registered
officially recorded or enrolled; specif.,
designating bonds, etc. having the owner's name listed in a register
designating a dog, horse, cow or bull, etc. having its ancestry recorded and authenticated by a breeders' association established to promote the breed
legally certified or authenticated
---
registered
adjective
Having the owner's name listed in a register: registered bonds.
Having the pedigree recorded and verified by an authorized association of breeders: a registered golden retriever.
Officially qualified or certified: a registered pharmacist.
---
registered

Verb
Simple past tense and past participle of register.
Adjective
(not comparable)
Having had one's name added to an official list or entered into a register

a registered nurse
a registered voter

(mail service) Having a mailed item recorded in a register to enable its location to be tracked, sometimes with added insurance to cover loss.
---