jar

jar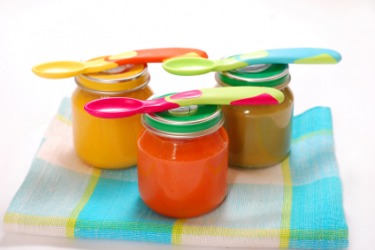 Baby food in jars.
noun
The definition of a jar is a harsh sound, a jolt or a quarrel, or a container made of stone, glass, etc.

An example of a jar is a surprise attack.
An example of a jar is a container for baby food.
verb
Jar is defined as to shock, shake, vibrate or quarrel.

An example of jar is to jump out from behind a door and surprise someone.
---
jar
intransitive verb
jarred

,

jar′ring
to make a harsh sound or a discord; grate
to have a harsh, irritating effect (on one)
to shake or vibrate from a sudden impact
to clash, disagree, or quarrel sharply
Origin of jar
ultimately echoic
to make vibrate or shake by sudden impact
to cause to give a harsh or discordant sound
to jolt or shock
a harsh, grating sound; discord
a vibration due to a sudden impact
a jolt or shock
a sharp clash, disagreement, or quarrel
a container made of glass, stone, earthenware, etc., usually cylindrical, with a large opening and no spout: some jars have handles
as much as a jar will hold
Origin of jar
Middle English
jarre
from French
jarre
from Old Provençal or Spanish
jarra
from Arabic
jarrah,
earthen water container
Archaic
a turn
now only in the phrase
on the jar
, ajar; partly open
Origin of jar
see ajar
---
jar
noun
A cylindrical glass or earthenware vessel with a wide mouth and usually no handles.
The amount that a jar can hold.
Chiefly British A glass of beer.
transitive verb
jarred, jar·ring, jars
To put into a jar.
Origin of jar
Middle English
jarre
a liquid measure
from
Old French (
from
Provençal
jarra
)
and from
Medieval Latin
jarra
both from
Arabic
jarra
earthen jar
from
jarra
to draw, pull
grr
Related Forms:
verb
jarred, jar·ring, jars
verb
intransitive
a. To cause shaking or vibrations: The ride over the old road was jarring.

b. To shake or vibrate from an impact or impacts: "The gallery jarred with a quick, heavy tramp" ( Robert Louis Stevenson )

To be disturbing or irritating; grate: The incessant talking jarred on my nerves.
To be out of harmony; clash or conflict: The curtains jar with the rest of the room.
verb
transitive
To cause to shake or vibrate from impact: The ride on the donkey jarred my bones.
To startle or unsettle; shock: The alarm jarred him out of sleep.
noun
A jolt; a shock.
Origin of jar
Perhaps of imitative origin
Related Forms:
---
jar

Noun
(plural jars)
A small, approximately cylindrical container, normally made of glass or clay, for holding fruit, preserves, etc., or for ornamental purposes.
Verb
(third-person singular simple present jars, present participle jarring, simple past and past participle jarred)
(of the form, style, appearance, etc. of people and things) To look strangely different; to stand out awkwardly from its surroundings; to be incongruent.
To give forth a rudely quivering or tremulous sound; to sound harshly or discordantly.

The notes jarred on my ears.

To act in opposition or disagreement; to clash; to interfere; to quarrel; to dispute.
Origin
Unknown; perhaps imitative.
---
jar - Computer Definition
(1) (Java ARchive) A file format that contains multiple files and is used to distribute a complete Java application. It contains all the resources required (classes, images, sounds, etc.) to download and run a Java program via a single HTTP request for one file. JAR files use the ZIP format and are the basis for WAR files. See WAR and EAR.
(2) A compression program for backup archiving from ARJ Software, Inc., Norwood, MA (www.arjsoftware.com). JAR is similar to ARJ, but files are not compatible. See ARJ.
---