chalice

chal·ice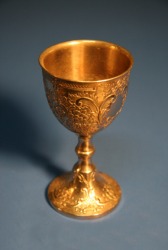 An ornate gold chalice.
noun
The definition of a chalice is a cup or goblet.

The cup used to drink wine during Holy Communion is an example of a chalice.
---
chalice
a cup; goblet
the cup for the wine of Holy Communion
a cup-shaped flower
Origin of chalice
Middle English and Old French from Classical Latin
calix
, cup: see calix
---
chalice
noun
A cup or goblet.
A cup for the consecrated wine of the Eucharist.
Origin of chalice
Middle English
from
Old French
from
Latin
calix
calic-
---
chalice

---