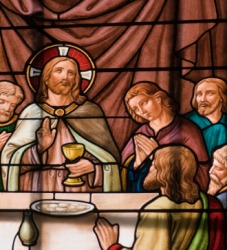 The Holy Grail is thought to be the cup of Christ.
---
grail definition by Webster's New World
noun
Medieval Legend

the cup or platter used by Jesus at the Last Supper, and by Joseph of Arimathea to collect drops of Jesus' blood at the Crucifixion: the chivalric quest for the Grail, which later disappeared, is treated in Malory's Morte Darthur, Wagner's Parsifal, etc.
Holy Grail (sense )
Origin: Middle English graal ; from Old French ; from Midieval Latin gradalis, flat dish, cup ; from uncertain or unknown; perhaps Vulgar Latin an unverified form cratalis ; from Classical Latin crater, mixing bowl: see crater
Webster's New World College Dictionary Copyright © 2010 by Wiley Publishing, Inc., Cleveland, Ohio. Used by arrangement with John Wiley & Sons, Inc.
---
grail definition by American Heritage Dictionary
noun
Grail A cup or plate that, according to medieval legend, was used by Jesus at the Last Supper and that later became the object of many chivalrous quests. Also called Holy Grail.
often Grail The object of a prolonged endeavor.
Origin: Middle English greal, from Old French graal, from Medieval Latin gradālis, flat dish.
grail
Variant of Grail
noun
Medieval Legend

the cup or platter used by Jesus at the Last Supper, and by Joseph of Arimathea to collect drops of Jesus' blood at the Crucifixion: the chivalric quest for the Grail, which later disappeared, is treated in Malory's Morte Darthur, Wagner's Parsifal, etc.
Holy Grail (sense )
Origin: Middle English graal ; from Old French ; from Midieval Latin gradalis, flat dish, cup ; from uncertain or unknown; perhaps Vulgar Latin an unverified form cratalis ; from Classical Latin crater, mixing bowl: see crater