noun
The definition of a holy grail is a sacred object, or something to be found or reached.

An example of holy grail is the chalice used by Christ in the last supper.
An example of holy grail is a sacred object you try to find that you may never locate.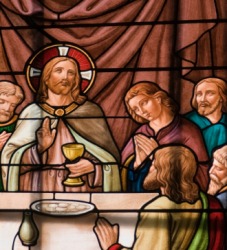 The Holy Grail is thought to be the cup of Christ.
---
Holy Grail definition by Webster's New World
Grail (sense )
any ultimate, but elusive, goal pursued as in a quest
Webster's New World College Dictionary Copyright © 2010 by Wiley Publishing, Inc., Cleveland, Ohio. Used by arrangement with John Wiley & Sons, Inc.
---
Holy Grail definition by American Heritage Dictionary
The American Heritage® Dictionary of the English Language, 4th edition Copyright © 2010 by Houghton Mifflin Harcourt Publishing Company. Published by Houghton Mifflin Harcourt Publishing Company. All rights reserved.
---
holy grail - Computer Definition
A very desired object or outcome that borders on a sacred quest. There are several Holy Grails in the computer business. Standards tend to be high on the list; for example, having "one" standard that everybody uses and is happy with for each required area. Writing software once and having it run on every computer platform is also desired by many. Another is a software component architecture that allows software modules to "plug together" like hardware components, no matter the platform they run on or which programming language they were written in. Christian Mythology There are several derivations of the meaning of the Holy Grail that come from Christian mythology. For example, some people believe it was the cup Jesus drank from at the Last Supper. Some say it was the cup that Joseph of Arimathea used to collect drops of Jesus' blood at the Crucifixion, while others believe it was the same cup in both instances. Numerous legends of the quest for the Holy Grail, which would bring healing and eternal life, have been recounted in various ancient treatises.
Computer Desktop EncyclopediaTHIS DEFINITION IS FOR PERSONAL USE ONLYAll other reproduction is strictly prohibited without permission from the publisher.© 1981-2014 The Computer Language Company Inc. All rights reserved.
---
Holy Grail - Cultural Definition
A cup or bowl that was the subject of many legends in the Middle Ages. It was often said to have been used by Jesus at The Last Supper. The Grail was supposedly transported to Britain, where it became an object of quest for the knights of the Round Table.
By extension, a "holy grail" is any esteemed object long sought for or attained only after great endeavor.
Holy Grail
Variant of Grail
noun
Medieval Legend

the cup or platter used by Jesus at the Last Supper, and by Joseph of Arimathea to collect drops of Jesus' blood at the Crucifixion: the chivalric quest for the Grail, which later disappeared, is treated in Malory's Morte Darthur, Wagner's Parsifal, etc.
Holy Grail (sense )
Origin: Middle English graal ; from Old French ; from Midieval Latin gradalis, flat dish, cup ; from uncertain or unknown; perhaps Vulgar Latin an unverified form cratalis ; from Classical Latin crater, mixing bowl: see crater