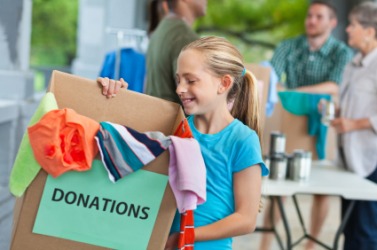 One disposal of old clothes is donating to charity.
noun
Disposal is defined as getting rid of or giving away.

An example of disposal is donating old clothes.

The definition of a disposal is an electrical device installed under a sink drain that is used to grind up food waste before it goes down the drain.

An example of a disposal is what you'd use to chop up apple peels before they go into the kitchen drain.
---
disposal
the act of disposing; specif.,

arrangement in a particular order: the disposal of furniture in a room
a dealing with matters or settling of affairs
a giving away; transfer; bestowal
a getting rid of

the power to dispose of
a device installed in the drain of a kitchen sink to grind up garbage that is then flushed down the drain
at one's disposal
available to use as one wishes
---
disposal
noun
A particular order, distribution, or placement: a pleasing disposal of plants and lawn.
A particular method of attending to or settling matters.
Transference by gift or sale.
The act or process of getting rid of something.
An electric device installed below a sink that grinds food waste so it can be flushed away.
The liberty or power to dispose of something: funds at our disposal.
---
disposal

---