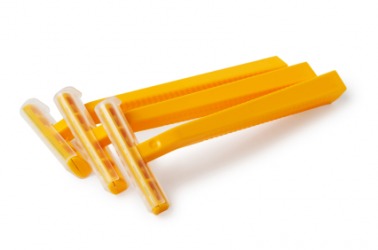 Three disposable razors.
adjective
The definition of disposable is something that is intended to be thrown away or that can be thrown away after use, or is money available to be used at will.

A razor that is supposed to be used a few times and then tossed in the garbage is an example of a disposable razor.
Interchangeable employees that don't matter to the company and that can be fired and replaced tomorrow are an example of disposable employees.
Money you have left over after you've paid all of your bills and saved what you wanted to save is an example of disposable income.
---
disposable
that can be or is intended to be thrown away after use: disposable bottles
that can be disposed of
available to use without restriction
something that can be or is intended to be disposed of, or thrown away, after use: usually used in pl.
---
disposable
adjective
Designed to be disposed of after use: disposable diapers; disposable razors.

a. Remaining to a person after taxes have been deducted: disposable income.

b. Free for use; available: Every disposable piece of equipment was sent to the fire.
noun
Something, such as a diaper or hypodermic syringe, that can be disposed of after one use.
Related Forms:
---
disposable

Noun
(plural disposables)
Adjective
(comparative more disposable, superlative most disposable)
That can be disposed of.
That is designed to be discarded rather than refilled or repaired.

Rather than purchase an expensive razor he bought a packet of cheap disposable ones.

Available to be used.
---