serf

serf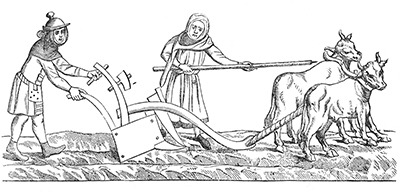 The hard life of a serf in the Middle Ages consisted of farming his master's land in exchange for the use of part of that land.
noun
The definition of a serf was an agricultural labor during the middle ages who was bound to work on a lord's estate.

An agricultural worker in the middle ages who was responsible for growing and harvesting wheat on land owned by a lord and who paid dues to the lord for the privilege of living on the land is an example of a serf.
---
serf
Obs.

a slave
a person in feudal servitude, bound to his or her master's land and transferred with it to a new owner
any person who is oppressed or without freedom
Origin of serf
Old French from Classical Latin
servus
, slave, probably of Etruscan origin, originally
---
serf
noun
A member of the lowest feudal class, legally bound to a landed estate and required to perform labor for the lord of that estate in exchange for a personal allotment of land.
An agricultural laborer under various similar systems, especially in Russia and eastern Europe in the 1700s and 1800s.
A person in bondage or servitude.
Origin of serf
Middle English
from
Old French
from
Latin
servus
slave
Related Forms:
---
serf

Origin
From Old French serf, from Latin servus ("slave, serf, servant"), perhaps of Etruscan origin
---