hunt

hunt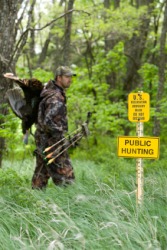 A man going out to hunt.
noun
The definition of a hunt is a chase or a search.

An example of a hunt is a nationwide search for an escaped convict.
verb
Hunt is defined as to look for or chase.

An example of hunt is to seek out wild turkeys to shoot for meals.
---
hunt
to go out to kill or catch (game) for food or sport
to search eagerly or carefully for; try to find

to pursue; chase; drive
to hound; harry; persecute

to go through (a woods, fields, etc.) in pursuit of game
to search (a place) carefully

to use (dogs or horses) in chasing game
Origin of hunt
Middle English
hunten
from Old English
huntian
, probably from base of
hentan
, to seize from uncertain or unknown; perhaps Indo-European an unverified form
kend-
, variant, variety of an unverified form
kent-
from source Gothic
(fra)hinthan
, to seize: see hand
to go out after game; take part in the chase
to search; seek
in bell ringing, to change the order of bells in a hunt (noun)
the act of hunting; the chase
a group of people who hunt together
a district covered in hunting
a search
in bell ringing, a series of regularly varying sequences in ringing a group of from five to twelve bells
hunt down
to pursue until successful in catching or killing
to search for until successful in finding
hunt up
to hunt for; search for
to find by searching
in the hunt
Informal
having a chance to win a competition
---
hunt
verb
hunt·ed, hunt·ing, hunts
verb
transitive
To pursue (game) for food or sport.
To search through (an area) for prey: hunted the ridges.
To make use of (hounds, for example) in pursuing game.
To pursue intensively so as to capture or kill: hunted down the escaped convict.
To seek out; search for.
To drive out forcibly, especially by harassing; chase away: hunted the newcomers out of town.
verb
intransitive
To pursue game.
To make a search; seek.
Aerospace

a. To yaw back and forth about a flight path, as if seeking a new direction or another angle of attack. Used of an aircraft, rocket, or space vehicle.

b. To rotate up and down or back and forth without being deflected by the pilot. Used of a control surface or a rocket motor in gimbals.

Engineering

a. To oscillate about a selected value. Used of a machine, instrument, or system.

b. To swing back and forth; oscillate. Used of an indicator on a display or instrument panel.
noun
The act or sport of hunting: an enthusiast for the hunt.

a. A hunting expedition or outing, usually with horses and hounds.

b. Those taking part in such an expedition or outing.

The hunting season for a particular animal: last year's deer hunt.
A diligent search or pursuit: on a hunt for cheap gas.
Origin of hunt
Middle English
hunten
from
Old English
huntian
---
hunt

---
hunt - Computer Definition

The process by which a switch or other device searches for a circuit within a group of lines or trunks in order to complete a connection. See also hunt group.
---
To switch to a different telephone line if the first one is busy. A "hunt group" is a series of telephone lines identified as a group such that if one line is busy, the next available line is used (it "hunts" to the next line). Local telephone companies provide hunting for a relatively small monthly fee. PBXs provide this feature automatically to their station sets for outbound line access.
---