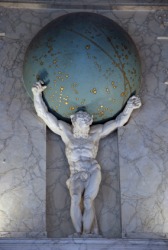 A statue of the titan Atlas.
noun
The definition of atlas is a book of maps or some type of information that includes pictures and/or tables and charts.

An example of an atlas is a collection of road maps detailing each of the 50 states.
---
Atlas
Gr. Myth.

a Titan compelled to support the heavens on his shoulders
any person who carries a great burden
[a-]

a book of maps: Atlas supporting the earth was often pictured on the front page of such books
a book of tables, charts, illustrations, etc. on a specific subject or subjects: an anatomical atlas

[a-]

Anat.

the topmost vertebra of the neck

Archit.

atlantes
Origin of Atlas
Classical Latin from Classical Greek from prothetic
a-
+
tlan
, bearing from Indo-European base an unverified form
tel-
, an unverified form
tla-
, to lift, bear from source tolerate, thole
---
atlas
noun
pl.
at·las·es
A book or bound collection of maps, sometimes with supplementary illustrations and graphic analyses.
A volume of tables, charts, or plates that systematically illustrates a particular subject: an anatomical atlas.
A large size of drawing paper, measuring 26 × 33 or 26 × 34 inches.
pl. at·lan·tes, Architecture A standing or kneeling figure of a man used as a supporting column, as for an entablature or balcony. Also called telamon .
Anatomy The top or first cervical vertebra of the neck, which supports the skull.
Origin of atlas
After
Atlas
Sense 1, probably from depictions of Atlas holding the world on his shoulders that appeared on the frontispieces of early works of this kind
Atlas
noun
Greek Mythology A Titan condemned by Zeus to support the heavens upon his shoulders.
atlas A person who supports a great burden.
Origin of Atlas
Greek
Atlās
; see
telə-
in Indo-European roots.
Atlas
statue at the
Linderhof Palace
Ettal, Germany
---
atlas

Origin
From the name of the Ancient Greek mythological figure Ἄτλας (Atlas, "Bearer (of the Heavens)"), from τλῆναι (tlēnai, "to suffer", "to endure", "to bear").
Origin
From Latin Atlas, from Ancient Greek Ἄτλας (Atlas).
---
atlas - Computer Definition
---