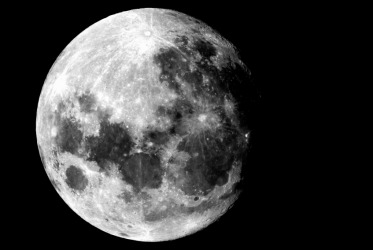 Craters on the moon.
noun
The definition of a crater is a hollow, bowl-shaped hole.

An example of a crater is a hole on the moon's surface.
---
crater
in ancient Greece or Rome, a kind of large bowl or jar shaped like an amphora
a bowl-shaped cavity, as at the mouth of a volcano or geyser
a pit resembling this, specif. one caused by a bomb or by the impact of a meteorite, as on the moon

Origin of crater

L, bowl, vessel for liquids[C-]

Astron.

a S constellation between Hydra and Corvus
Origin of crater
L, mixing bowl (for wine), mouth of a volcano from Classical Greek
krat?r
from
kerannynai,
to mix: see idiosyncrasy
to form craters

Slang

to fail completely
---
crater
noun
A bowl-shaped depression created by the activity of a volcano or geyser.

a. A bowl-shaped depression in a surface made by an explosion or the impact of a body, such as a meteoroid.

b. A pit; a hollow.

Variant of krater
verb
cra·tered, cra·ter·ing, cra·ters
verb
transitive
To make craters in: "The missiles did not … crater the airfield" ( Tom Clancy )
verb
intransitive
To form a crater or craters.
Slang

a. To fall and crash violently from a great height.

b. To fail utterly: "talked about how tough times were in Texas since the oil business cratered" ( Stephen Coonts )
Origin of crater
Latin
crātēr
from
Greek
krātēr
mixing vessel
; see
kerə-
in Indo-European roots.
crater
top: Ol Doinyo Lengai, an active volcano in northern Tanzania (background) with a crater (foreground) formed by the collapse of a cone on its flank
bottom: Meteor Crater, near Winslow, Arizona
crater
Crater
noun
A constellation in the Southern Hemisphere near Hydra and Corvus.
Origin of Crater
Latin
crātēr
mixing bowl, crater
; see
crater
.
---
crater

Verb
(third-person singular simple present craters, present participle cratering, simple past and past participle cratered)
To collapse catastrophically; implode; hollow out; to become devastated or completely destroyed.

The economy is about to crater. -- Attributed by David Letterman to Sen. John McCain. NYTimes blog
Origin
First coined 1613, from Latin crater ("basin"), from Ancient Greek κρατήρ (kratēr, "mixingbowl, wassail-bowl"), from κράμα (krama, "mixture"), from κεράννυμι (kerannumi, "to mix, to mingle").
Noun
(plural craters)
(Ireland, informal, UK, dialect) A term of endearment, a dote, a wretched thing.

1843 - I then had the two best tarriers beneath the canopy; this poor crater is their daughter," and he patted the dog's head affectionately.William Hamilton Maxwell, Wild Sports of the West: With Legendary Tales, and Local Sketches , Publisher R. Bentley, page 77,
1859 - She is a charming crater; I would venture to say that, if I was not her father.The British Drama: A Collection of the Most Esteemed Tragedies, Comedies ...
1872 Thomas Hardy "Under the Greenwood Tree"
"Then why not stop for fellow-craters -- going to thy own father's house too, as we be, and knowen us so well?"
Usage notes
This term is still commonly used in speech but rarely appears in modern writing.
See also:
craterin
Origin
Possibly a diminutive of cratur (dialect form of creature).
---