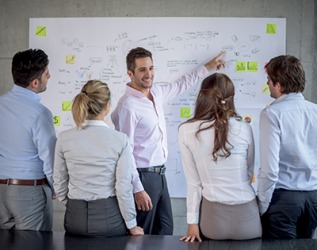 Everyone in the department was encouraged to add their own ideas to the business schematic written on the whiteboard.
adjective
Schematic is defined as something that relates to a plan or diagram.

An example of schematic is a diagram showing the steps to acheive a goal; a schematic diagram.
noun
The definition of a schematic is a diagram showing details and step-by-step flow.

An example of a schematic is what a technician installing a new phone system would use for mapping out the wiring.
---
schematic
of, or having the nature of, a scheme, schema, plan, diagram, etc.
Origin of schematic
Modern Latin
schematicus
a schematic diagram, as of electrical wiring in a circuit
---
schematic
adjective
Of, relating to, or in the form of a scheme or diagram.
noun
A structural or procedural diagram, especially of an electrical or mechanical system.
Related Forms:
---
schematic

Adjective
(comparative more schematic, superlative most schematic)
relating to a schema
Noun
(plural schematics)
A drawing or sketch showing how a system works at an abstract level.

I'll have to study the schematics for the new integrated circuit before I can create a good layout.
---
schematic - Computer Definition
A graphical representation of a system. It often refers to electronic circuits on a printed circuit board or in an integrated circuit (chip). See logic gate and HDL.
---