rote

rote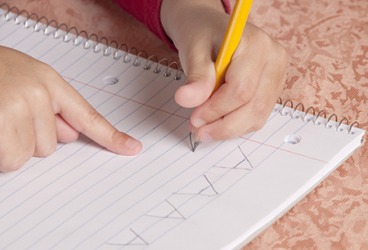 The young student is learning the alphabet by rote while also improving manual dexterity writing the letters by hand.
noun
Rote is defined as a routine, mechanical way of doing something.

When you repeat spelling words over and over, this is an example of memorizing something by rote.
---
rote
a fixed, mechanical way of doing something; routine
Origin of rote
Middle English from uncertain or unknown; perhaps
of or having to do with learning through memorization
by rote
by means of memorization; specif., by means of the mechanical repetition of facts as a method of memorizing them: to learn the multiplication table by rote
the sound of the surf beating on the shore
Origin of rote
probably via Middle English dialect, dialectal from Scand, as in Old Norse
rauta,
to roar, akin to Old High German
r?z
, a weeping, wailing: for Indo-European base see raucous
a medieval stringed instrument, variously supposed to have been a kind of lyre, lute, or harp
Origin of rote
Middle English from Old French from Frankish an unverified form
hr?ta
(akin to Old High German
hrotta
) from Celtic
chrotta
from source Welsh
crwth,
crowd
---
rote
noun
A memorizing process using routine or repetition, often without full attention or comprehension: learn by rote.
Mechanical routine.
Origin of rote
Middle English
Related Forms:
noun
The sound of surf breaking on the shore.
Origin of rote
Probably of Scandinavian origin
Old Norse
rauta
to roar
noun
A medieval stringed instrument variably identified with a lyre, lute, or harp.
Origin of rote
Middle English
from
Old French
probably of Germanic origin
---
rote

Noun
(uncountable)
The process of learning or committing something to memory through mechanical repetition, usually by hearing and repeating aloud, often without full attention to comprehension or thought for the meaning.

They didn't have copies of the music for everyone, so most of us had to learn the song by rote.

Mechanical routine; a fixed, habitual, repetitive, or mechanical course of procedure.

The pastoral scenes from those commercials don't bear too much resemblance to the rote of daily life on a farm.
Usage notes
Commonly found in the phrase "by rote" and in attributive use: "rote learning", "rote memorization", and so on.
Often used pejoratively in comparison with "deeper" learning that leads to "understanding".
Adjective
(comparative more rote, superlative most rote)
By repetition or practice.
Verb
(third-person singular simple present rotes, present participle roting, simple past and past participle roted)
To learn or repeat by rote.
Origin
From Middle English, origin uncertain. Likely from the phrase bi ("by") rote ("heart"), c. 1300. Some have proposed a relationship either with Old French rote/rute ("route"), or Latin rota ("wheel") (see rotary), but the OED calls both suggestions groundless.
Origin
c. 1600, from Old Norse rót ("tossing, pitching (of sea)") n, perhaps related to rauta ("to roar").
Noun
(plural rotes)
A kind of guitar, the notes of which were produced by a small wheel or wheel-like arrangement; an instrument similar to the hurdy-gurdy.
---