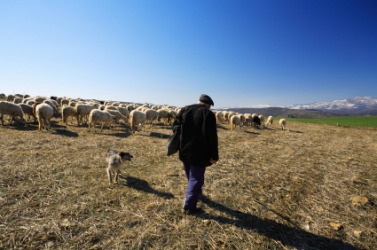 A shepherd with his sheep.
noun
The definition of a shepherd is someone who cares for people or animals.

An example of a shepherd is someone who cares for sheep.
verb
To shepherd is defined as to herd or guide.

An example of to lead a group of people such as minister leads his congregation.
---
shepherd
a person who herds and takes care of sheep
a leader of a group; esp., a minister
German shepherd
Origin of shepherd
Middle English
shephirde
from Old English
sceaphyrde
: see sheep and herd
to tend, herd, guard, or lead as or like a shepherd
---
shepherd
noun
One who herds, guards, and tends sheep.
One who cares for and guides a group of people, as a minister or teacher.
A German shepherd.
transitive verb
shep·herd·ed, shep·herd·ing, shep·herds
To herd or tend as a shepherd. See Synonyms at guide.
To guide or lead on a course: The counselors shepherded the campers toward the waterfront.
To direct or instruct in a certain manner: shepherded the student through algebra.
Origin of shepherd
Middle English
shepherde
from
Old English
scēaphierde
scēap
sheep
hierde
herdsman
---
shepherd

Proper noun
A surname​.
A male given name
---