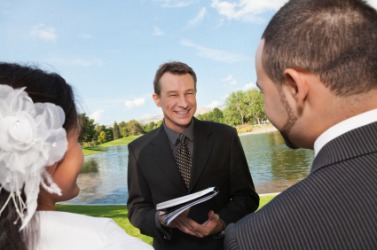 A minister performing a wedding ceremony.
noun
The definition of a minister is a person chosen to carry out given orders or church functions.

An example of a minister is someone appointed by a government to lead a governmental department.
An example of a minister is the person authorized to perform marriage ceremonies in a church.
verb
Minister is defined as to provide or give help.

An example of to minister is a therapist giving advice to a client.
---
minister
a person acting for another as agent and carrying out given orders or designs; specif.,

a person appointed by the head of a government to take charge of some department
a diplomatic officer sent to a foreign nation to represent his or her government, usually ranking below an ambassador

anyone authorized to carry out or assist in the spiritual functions of a church
an ordained member of a Protestant church; esp., a pastor

the superior of certain Roman Catholic religious orders
a person or thing thought of as serving as the agent of some power, force, etc.: a minister of evil
Origin of minister
Old French
ministre
from Classical Latin
minister,
an attendant, servant, in LL(Ec), Christian preacher from base of Classical Latin
minor
, minor: formed probably after
magister,
master
to supply; provide
to administer
Origin of minister
ME
ministren
< OFr
ministrer
< L
ministrare
to serve as a minister in a church
to give help (to)
---
minister
noun
a. One who is authorized to perform religious functions in a Christian church, especially a Protestant church.

b. Roman Catholic Church The superior in certain orders.

A high officer of state appointed to head an executive or administrative department of government.
An authorized diplomatic representative of a government, usually ranking next below an ambassador.
A person serving as an agent for another by carrying out specified orders or functions.
verb
min·is·tered, min·is·ter·ing, min·is·ters
verb
intransitive
To attend to the wants and needs of others: Volunteers ministered to the homeless after the flood. See Synonyms at tend 2.
To perform the functions of a cleric.
verb
transitive
To administer or dispense (a sacrament, for example).
Origin of minister
Middle English
ministre
from
Old French
from
Latin
minister
servant
; see
mei-
2
in Indo-European roots.
---
minister

---