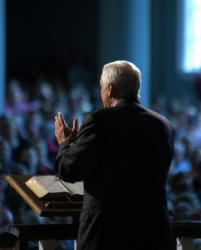 An evangelist speaks to his congregation.
noun
The definition of an evangelist is someone who preaches to large groups of people, often on television or in revivals.

An example of an evangelist is Billy Graham.
---
evangelist
[E-] any of the four writers of the Gospels: Matthew, Mark, Luke, or John
a revivalist or a preacher who holds large public services in various cities, now often televised
Origin of evangelist
Middle English and Old French
evangeliste
from Ecclesiastical Late Latin
evangelista
from Classical Greek
euangelist?s
, bringer of good news (in New Testament , evangelist): see evangel
---
evangelist
noun
often Evangelist Any of the authors of the four Gospels in the New Testament, traditionally identified by the names Matthew, Mark, Luke, and John.
One who practices evangelism, especially a Protestant preacher or missionary.
One who promulgates or promotes something enthusiastically.
---
evangelist

---