pie

PIE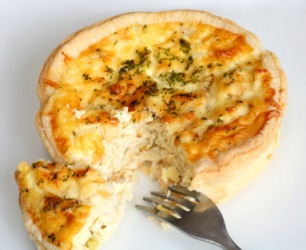 Quiche is a savory pie.
noun
Pie is fruit, meat or cheese prepared with a pastry shell, usually baked with a pastry crust and round, or a layer of cake with a sweet filling.

An example of pie is quiche.
An example of pie is lemon meringue.
An example of pie is Boston cream pie.
---
pie
a baked dish made with fruit, meat, etc., and having either an under crust, an upper crust, or both
a layer cake with a filling of custard, cream, jelly, etc.

Slang

something extremely good or easy
political graft
a total amount to be divided in shares
Origin of pie
ME, akin uncertain or unknown; perhaps to pie
Origin of pie
from uncertain or unknown; perhaps pie
magpie
Origin of pie
Old French from Classical Latin
pica,
magpie, akin to
picus,
woodpecker from Indo-European base an unverified form
(s)piko-,
woodpecker from source German
specht
in England, a form or table of rules used before the Reformation in selecting the correct church service or office for the day
Origin of pie
translated, translation of Ecclesiastical Medieval Latin
pica,
probably from or akin to pie
PIE
---
pie
noun
A dish composed of fruit, meat, cheese, or other ingredients baked over, under, or surrounded by a crust of pastry or other dough.
A layer cake having cream, custard, or jelly filling.
Informal A pizza.
Something similar to or resembling pie: mud pie.
A whole that can be portioned out: "That would … enlarge the economic pie by making the most productive use of every investment dollar" ( New York Times )
Origin of pie
Middle English
noun
Origin of pie
Middle English
from
Old French
from
Latin
pīca
noun
A former unit of currency of India.
Origin of pie
Hindi
pā'ī
from
Sanskrit
pādikā
quarter
from
pāt
pad-
foot, leg
; see
ped-
in Indo-European roots.
noun
An almanac of services used in the English church before the Reformation.
Origin of pie
Medieval Latin
pīca
PIE
abbreviation
Proto-Indo-European
---
pie

Noun
(countable and uncountable, plural pies)
A type of pastry that consists of an outer crust and a filling.

The family had steak and kidney pie for dinner and cherry pie for dessert.

Any of various other, non-pastry dishes that maintain the general concept of a shell with a filling.

Shepherd's pie is made of mince covered with mashed potato.

(Northeastern US) Pizza.
(figuratively) The whole of a wealth or resource, to be divided in parts.

It is easier to get along when everyone, more or less, is getting ahead. But when the pie is shrinking, social groups are more likely to turn on each other. — Evan Thomas, Why It's Time to Worry, Newsweek 2010-12-04

(letterpress typography) A disorderly mess of spilt type.
(cricket) An especially badly bowled ball.
(pejorative) a gluttonous person.
A pie chart.
(slang) The vulva.
Verb
(third-person singular simple present pies, present participle pieing, simple past and past participle pied)
To hit in the face with a pie, either for comic effect or as a means of protest (see also pieing).

I'd like to see someone pie the chairman of the board.

To go around (a corner) in a guarded manner.
Noun
(plural pies)
(obsolete) Magpie.
Noun
(plural pie or pies)
---