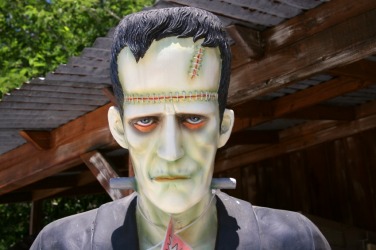 Frankenstein's monster is the archetype for characters of horror stories.
noun
The definition of an archetype is the first of its kind and the basis for all to follow it.

An example of an archetype is Frankenstein whose character influenced many future characters of horror books and movies.

In psychology, an archetype is the innate knowledge, images, or ways of thinking that are inherited from ancestors.

An event that might be an archetype is birth.
---
archetype
the original pattern, or model, from which all other things of the same kind are made; prototype
a perfect example of a type or group
in Jungian psychology, any of several innate ideas or patterns in the psyche, expressed in dreams, art, etc. as certain basic symbols or images
Origin of archetype
Classical Latin
archetypus
from Classical Greek
archetypon
from
archos
(see arch-) +
typos
(see type)
---
archetype
noun
An original model or type after which other similar things are patterned; a prototype: "'Frankenstein' … 'Dracula' … 'Dr. Jekyll and Mr. Hyde' … the archetypes that have influenced all subsequent horror stories" ( New York Times )
An ideal example of a type; quintessence: an archetype of the successful entrepreneur.
In Jungian psychology, an inherited pattern of thought or symbolic imagery derived from past collective experience and present in the individual unconscious.
Origin of archetype
Latin
archetypum
from
Greek
arkhetupon
from
neuter of
arkhetupos
original
arkhe-, arkhi-
archi-
tupos
model, stamp
Related Forms:
ar′che·typ′al ar′che·typ′ic ar′che·typ′i·cal

adjective
ar′che·typ′i·cal·ly

adverb
Usage Note: The ch in archetype, and in many other English words of Greek origin such as architect and chorus, represents a transliteration of Greek X (chi), and its standard pronunciation is (k). The pronunciation of ch in these words as (ch) is generally considered incorrect. Notable exceptions in which the ch is in fact pronounced (ch) include words formed by adding the prefix arch- to an existing English word, as in archenemy or archrival, and also words such as archbishop and archdeacon that date back to Old English, having been borrowed directly from Late Latin and Late Greek.
---
archetype

Noun
(plural archetypes)
An original model of which all other similar persons, objects, or concepts are merely derivative, copied, patterned, or emulated; a prototype
(literature) A character, story, or object that is based on a known character, story, or object.
An ideal example of something; a quintessence.
(psychology) According to the Swiss psychologist Carl Jung, a universal pattern of thought, present in an individual's unconscious, inherited from the past collective experience of humanity.
Usage notes
Traditionally archetype refers to the model upon which something is based, but it has also come to mean an example of a personality archetype, particularly a fictional character in a story based on a well-established personality model. In this fashion, a character based on the Jesus archetype might be referred to as a "Jesus archetype". See eponym for a similar usage conflict.
Verb
(third-person singular simple present archetypes, present participle archetyping, simple past and past participle archetyped)
To depict as, model using or otherwise associate a subject or object with an archetype.
Origin
From Old French architipe (French archétype), from Latin archetypum, from Ancient Greek ἀρχέτυπον (arkhetupon, "pattern, model") neuter of ἀρχέτυπος (arkhetupos, "first-moulded"), from ἀρχή (arkhē, "first, origin ") + τύπος (typos, "sort, type, press").
See also:
archétype
---