prototype

pro·to·type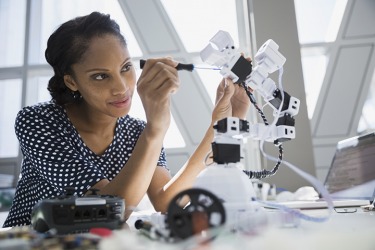 An engineer working on the prototype of a robot.
noun
The definition of a prototype is the original model.

An example of a prototype is the first model of a new robot.
---
prototype
the first thing or being of its kind; original; model; pattern; archetype
a person or thing that serves as a model for one of a later period
a full-scale, operational model, used for demonstration or testing, that incorporates a new design or new features
a perfect example of a particular type
Origin of prototype
French from Classical Greek
pr?totypon
from
pr?totypos
, original: see proto- and type
---
prototype
noun
An original type, form, or instance serving as a basis or standard: "The abolitionists were the prototype of modern citizen activism" ( Adam Hochschild )
An original, full-scale, and usually working model of a new product or new version of an existing product.
A typical example of a class or category: "He fit the prototype of the artist as social misfit and compulsive contrarian" ( Stephen Holden )
transitive verb
pro·to·typed, pro·to·typ·ing, pro·to·types
To make a prototype of (a product).
Origin of prototype
French
from
Greek
prōtotupon
from neuter of
prōtotupos
original
prōto-
proto-
tupos
model
Related Forms:
pro′to·typ′al pro′to·typ′ic pro′to·typ′i·cal

adjective
---
prototype

Noun
(plural prototypes)
An original object or form which is a basis for other objects, forms, or for its models and generalizations
An early sample or model built to test a concept or process

The prototype had loose wires and rough edges, but it worked.

(semantics) An instance of a category or a concept that combines its most representative attributes.

A robin is a prototype of a bird; a penguin is not.

(computing) A declaration of a function that specifies the name, return type, and parameters but none of the body, or actual code.
Verb
(third-person singular simple present prototypes, present participle prototyping, simple past and past participle prototyped)
To create a prototype of.
---