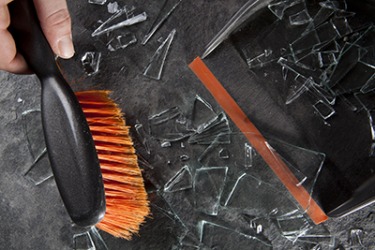 The shards of glass were swept up before someone could cut their feet on them.
noun
The definition of a shard is a broken piece, especially of pottery, glass or metal.

An example of a shard is a small piece of glass that broke off a window.
---
shard
a fragment or broken piece, esp. of pottery; potsherd

Zool.

a hard covering, as a shell, plate, scale, or elytron
Origin of shard
Middle English from Old English
sceard
, akin to
scieran
, to shear
---
shard
also sherd
noun
A broken piece or fragment, as of pottery or glass.
Zoology A tough scale or covering, such as the elytron of a beetle.
Origin of shard
Middle English
sherd
from
Old English
sceard
cut, notch
; see
sker-
1
in Indo-European roots.
---
shard

Noun
(plural shards)
A piece of material, especially rock and similar materials, reminding of a broken piece of glass or pottery.
Verb
(third-person singular simple present shards, present participle sharding, simple past and past participle sharded)
(intransitive) To fall apart into shards, usually as the result of impact or explosion.
To break (something) into shards.
(online role-playing) To divide (an MMORPG) into several shards, or to establish a shard of one.
Origin
From Middle English, from Old English sceard. Akin to German Scharte ("notch"), Old Norse skarð ("notch, hack") (> Danish skÃ¥r).
Noun
(uncountable)
The plant chard.
---
shard - Computer Definition
---