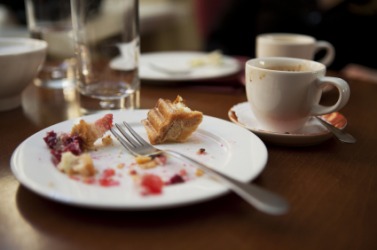 This dessert has been finished.
adjective
The definition of finished is something that has been completed, or someone or something that has been ruined, or something that has had a particular coating applied, or someone who is skilled or polished.

When you've eaten all of your lunch, this is an example of a time when your lunch is finished.
When your career is over and destroyed by a scandal, this is an example of a time when your career is finished.
When a coat of cherry stain has been applied to a piece of wood, this is an example of a time when the wood is finished.
When you are a renowned poet beloved by critics the world over, this is an example of a time when you are a finished artist.
verb
Finished is defined as completed or ended.

When you ate all of your lunch and there is nothing left, this is an example of when you finished your lunch.
---
finished
ended; concluded
completed
highly skilled or polished; perfected; accomplished
given a certain kind of finish or surface, as of paint, wax, etc.
defeated, ruined, dying, etc.
done with a task, activity, or concern: they were finished by noon
---
finished
adjective
a. Brought to a state of completion: a finished novel.

b. In a state of having completed something: The cook is finished preparing the meal.

a. Exhibiting a high degree of skill or refinement: an essay that was a finished piece of work.

b. Highly accomplished or skilled; polished: a finished artist.

a. Doomed to death or destruction: If the explorers don't get more supplies, they are finished.

b. Having no more use, value, or potential; washed-up: With that injury, he's finished as a pitcher.
---
finished

Adjective
(comparative more finished, superlative most finished)
Terminated; concluded; done.

I won't be finished until just before lunch.
The program was finally finished after three hours.
He wasn't finished cleaning up until nearly noon.
He wasn't quite finished with his assignment.

Done for; doomed; used up.
Verb
simple past tense and past participle of finish

He finished the cabinet with two more layers of polyurethane.
---