eye

eye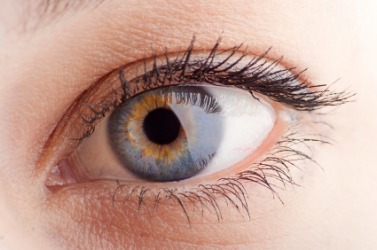 The human eye.
noun
The definition of an eye is the organ that gives sight in humans and animals, or the iris.

An example of an eye is the pair of visible organs that humans use to see.
verb
To eye is defined as to look at or observe.

An example of to eye is to check out a jacket in a department store window, you eye the jacket.
---
eye
the organ of sight in humans and animals

the eyeball
the iris: brown eyes
the eyeball as it appears within the face: big eyes, narrow eyes, slanted eyes

the area around the eye, including the eyelids: to get a black eye
[often pl.] the power of seeing; sight; vision: weak eyes
a look; glance; gaze: to cast an eye on something
attention; regard; observation
the power of judging, estimating, discriminating, etc. by eyesight: a good eye for distances
[often pl.] judgment; opinion; estimation: in the eyes of the law
a thing like an eye in appearance or function; specif.,

a bud of a tuber, as a potato
the spot on a peacock's tail feather
the center of a flower; disk
a hole in a tool, as for a handle
the threading hole in a needle
a loop of metal, rope, or thread: hook and eye
an organ sensitive to light, as in certain lower forms of life
photoelectric cell
a section of any of certain cuts of meat: eye of round
a hole, as in certain cheeses

Slang

a private detective; private eye

Meteorol.

the calm, low-pressure area at the center of a strong tropical cyclone, hurricane, or typhoon, around which winds of high velocity move
[pl.]

Naut.

the part of the main deck of a vessel that is farthest forward
Origin of eye
Middle English
ey, eie
from Old English
?age
, akin to German
auge
from Indo-European base an unverified form
okw-
, to see from source Classical Greek
osse
, eyes,
?ps
, face, eye, Classical Latin
oculus
transitive verb
eyed

,

eye′ing

or

ey′ing
to look at; watch carefully; observe
to provide with eyes, or holes
Obs.
to appear (to the eyes)
an eye for an eye
punishment or retaliation similar or equivalent to the injury suffered
catch someone's eye
to attract someone's attention
eyes right (or left)
Mil.
a command to snap the head to the right (or left) while marching, as a salute when passing in review
give someone the eye
Slang
to look at someone, esp. in an admiring or inviting way
have an eye for
to have a keen appreciation of
have an eye to
to watch out for; attend to
have eyes for
Informal
to be very interested in and want
in a pig's eye!
Slang
never; under no circumstances: an exclamation indicating skepticism, strong disapproval, etc.
in the eye of the wind
Naut.
directly against the wind
in the public eye
much seen in public
often brought to public attention; well-known
keep an eye on
to look after; watch carefully
keep one's eyes open
to be on the lookout; be watchful
look someone in the eye
to look directly and assertively into the eyes of another: out of shame he couldn't look me in the eye
make eyes at
to look at amorously or flirtatiously
my eye!
Slang
an exclamation of contradiction, astonishment, etc.
open someone's eyes
to make someone aware of the facts, real reasons, etc.
see with half an eye
to see or understand (something) easily because it is so evident
shut one's eyes to
to refuse to see or think about
turn a blind eye to
to ignore or pretend not to notice (something)
with an eye to
paying attention to; considering

---
eye
noun
An organ of vision or of light sensitivity.

a. Either of a pair of hollow structures located in bony sockets of the skull, functioning together or independently, each having a lens capable of focusing incident light on an internal photosensitive retina from which nerve impulses are sent to the brain; the vertebrate organ of vision.

b. The external, visible portion of this organ together with its associated structures, especially the eyelids, eyelashes, and eyebrows.

c. The pigmented iris of this organ.

The faculty of seeing; vision.
The ability to make intellectual or aesthetic judgments: has a good eye for understated fashion.

a. A way of regarding something; a point of view: To my eye, the decorations are excellent.

b. Attention: The lavish window display immediately got my eye.

c. Watchful attention or supervision: always under his boss's eye; kept an eye on her valuables.

Something suggestive of the vertebrate organ of vision, especially:

a. An opening in a needle.

b. The aperture of a camera.

c. A loop, as of metal, rope, or thread.

d. A circular marking on a peacock's feather.

e. Chiefly Southern US The round flat cover over the hole on the top of a wood-burning stove. Also called Also called regionally cap 1. Also called griddle .

A photosensitive device, such as a photoelectric cell.
Botany

a. A bud on a twig or tuber: the eye of a potato.

b. The often differently colored center of the corolla of some flowers.

a. Meteorology The circular area of relative calm at the center of a cyclone.

b. The center or focal point of attention or action: right in the eye of the controversy.

Informal A detective, especially a private investigator.
A choice center cut of meat, as of beef: eye of the round.
transitive verb
eyed, eye·ing,
or
ey·ing
eyes
To look at: eyed the passing crowd with indifference.
To watch closely: eyed the shark's movements.
To supply with an eye.
Origin of eye
Middle English
from
Old English
ēge, ēage
; see
okw-
in Indo-European roots.
eye
top: cross section of a human eye
A. vitreous humor
B. optic nerve
C. fovea centralis
D. retina
E. choroid
F. sclera
G. cornea
H. aqueous humor
I. pupil
J. iris
K. lens
bottom: the eye of hurricane Catarina, off the coast of Brazil in 2004, as seen from the International Space Station
eye
---
eye

Noun
(plural eyes or eyen (obsolete))
An organ through which animals see.

Bright lights really hurt my eyes.

The visual sense.

The car was quite pleasing to the eye, but impractical.

Attention, notice.

That dress caught her eye.

The ability to notice what others might miss.

He has an eye for talent.

A meaningful stare or look.

She was giving him the eye at the bar.   When the car cut her off, she gave him the eye.

A private eye: a privately hired detective or investigator.
A fitting consisting of a loop of metal or other material, suitable for receiving a hook or the passage of a cord or line.
The relatively clear and calm center of a hurricane or other such storm.
A mark on an animal, such as a peacock or butterfly, resembling a human eye.
The dark spot on a black-eyed pea.
A reproductive bud in a potato.
(informal) The dark brown center of a black-eyed Susan flower.
A loop forming part of anything, or a hole through anything, to receive a rope, hook, pin, shaft, etc. — e.g. at the end of a tie bar in a bridge truss; through a crank; at the end of a rope; or through a millstone.
That which resembles the eye in relative importance or beauty.
Tinge; shade of colour.
Hyponyms
(An organ that is sensitive to light, by which means animals see): ocellus
Verb
(third-person singular simple present eyes, present participle eyeing or eying, simple past and past participle eyed)
To observe carefully.

After eyeing the document for an hour she decided not to sign it.
They went out and eyed the new car one last time before deciding.

To view something narrowly, as a document or a phrase in a document.
To look at someone or something as if with the intent to do something with that person or thing.
Origin
From Middle English, from Old English ēaġe ("eye"), from Proto-Germanic *augô ("eye") (compare Scots ee, West Frisian each, Dutch oog, German Auge, Swedish öga), from Proto-Indo-European *h₃okʷ-, *h₃ekʷ- ("eye; to see") (compare Latin oculus, Lithuanian akìs, Old Church Slavonic око (oko), Albanian sy, Ancient Greek ὤψ (ōps, "eye, face"), Armenian ակն (akn), Avestan [script?] (aši, "eyes"), Sanskrit अक्षि (ákṣi), Tocharian A ak). Related to ogle.
Noun
(plural eyes)
A brood.

an eye of pheasants
Origin
Probably from a nye changing to an eye.
Proper noun
(UK, colloquial) the comedic magazine Private Eye.
(UK) The London Eye, a tourist attraction in London.
---